Reallusion Fuses Real-Time 3D Animation and Video Compositing FX with Release of the iClone 4.0™ Filmmaking Platform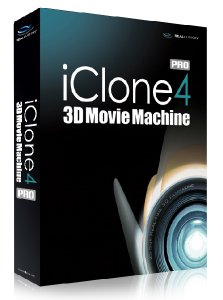 Newest Edition of Acclaimed 3D Tool
Boasts Such
Studio-Quality Features as 3D Video FX, Real-Time Facial Animation, Motion Paths, Increased Character Support, and more 
Reallusion, Inc., a pioneer in advancing 3D animation and imaging technology, has launched iClone 4.0™, the latest edition of their popular 3D filmmaking and animation software.  
iClone 4.0 introduces new features that combine video production with 3D real-time animation. The result is a powerful production tool for motion graphics, 3D animation and video compositing.     
New features include:
Real-time Video textures & 3D/Video compositing
Drag-&-Drop editing for rapid scene creation
Edit and animate any non-human character type, including animals, creatures, cartoon figures
Real-time Facial Animation for puppeteering
Motion Paths for props, cameras, particle FX & actors
HDR & Image-based lighting atmosphere FX
Enhanced spring dynamics, water and particle effects
"iClone is the tool of choice for a daily TV news magazine. There is no other 3D package that gives you such speed," said Thorsten Strack, Executive Director, L4 Kreation, Germany. "I have never worked with a 3D package that gives so much creative freedom; it feels like filmmaking, not 3D editing."  
iClone has introduced students, professionals and independent filmmakers worldwide to the real-time art of 3D animation, digital storytelling and digital content creation. Additional information, as well as demo videos and sample work created with iClone 4.0, is available at: 
www.reallusion.com/iclone
.
ROYALTY-FREE CONTENT
In addition to Google 3D Warehouse, a favorite of users of Google's free 3D modeling tool SketchUp, Reallusion's content store offers a plethora of royalty-free, ready-to-use 3D content for iClone and their other family of products. Users are encouraged to add their work to the hundreds of content creators who are already selling their creations to other members of the iClone community. Whether it's a city scene, assets that might make for a tales of elves and sorcery or some tree textures to fill in an outdoor scene, Reallusion's content store has it all. For more information, visit 
www.reallusion.com/contentstore
.   
PRICING and AVAILABILITY:
Download versions and box versions of iClone will be available from the Reallusion Online Store at 
www.reallusion.com
Standard version is available at £69.99 inc and Pro version for £139.99 inc.  
Availability at leading retailers worldwide will follow. Business site licenses, with prices based on volume requirements, and educational discounts are available directly from 
www.reallusion.com
. Free trials and upgrades are also available at the Reallusion website.