Anime Review Roundup
Death Note Competition
For me, 2008 was the year of the Death Note. The manga came to the UK, the live action feature films, and most pertinently, the animated television series. I had great pleasure in reviewing the anime for this site, and you can find those reviews
here
, where you can learn just how amazing and groundbreaking this series is. But there are some anime fans, you know who you are, that just can't be having with the single volume releases being drip fed to you. You want your anime in big, hefty, juicy chunks. Well, for you 2009 is the year of the Death Note as well, as you can now buy the manga volumes collected and packaged together, the feature films will be released in a collection later this year, and coming out on September 28th, is the Death Note anime boxset (15), which gathers all 9 discs together in a substantial cardboard construction, adds an exclusive limited edition booklet, and will be available at a very attractive price from Manga Entertainment.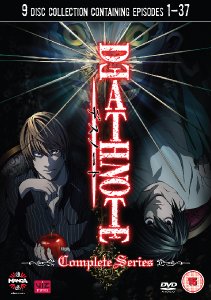 But put your wallets away for just one minute. Courtesy of Manga Entertainment, we have two copies to give away, and you don't even have to become the God of the new world to get your hands on one. All you have to do is click
this link
, answer one simple question, and leave your e-mail address. The competition closes this Sunday 20th of September, so you don't have long.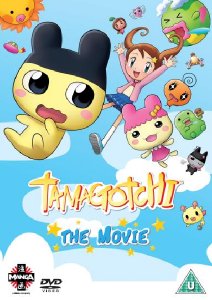 I began the reviewing week by desperately searching for my inner child, so that I could best appreciate
Tamagotchi: The Movie
. See, I didn't know that Tamagotchis were still around, figuring they were a briefly-lived 90's fad. Not so, as this is actually the first of two Tamagotchi movies, and there is a television series forthcoming as well. It's a story about one little girl's adventures on Tamagotchi world, where everything ends in a 'tchi', and everything has a face. If you're six years old, you'll love this. Also if you're six years old, stop reading now.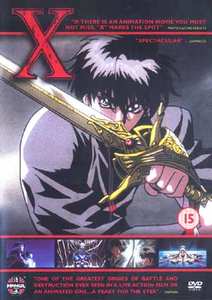 As I had to hastily find my outer cynic again for
X: The Movie
. This is an apocalyptic, dark, scary, gothic, end of the world scenario, where two groups of super-powered individuals fight to the death to win the fate of humanity. It's also got some boobies in. Which is why I asked you six-year-olds to stop reading four lines ago. X: The TV Series has just landed on my to review pile, which is why I thought it was a good idea to get a grounding by seeking out this venerable old disc with the feature film on. See how much of a mistake that was by clicking the link.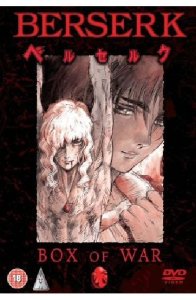 If some stray six year olds have managed to survive the X movie, then they're sure to be finished off by our final review of the week. Stuart McLean took a look at the
Berserk: Box of War Collection
and immersed himself in the mediaeval blood, brutality, scheming, politics, depravity, sex and violence of one of the best anime series ever made. In terms of intensity of content, Berserk is to X, as X is to Tamagotchi. Find out why all 18 year olds and above should invest in this series by clicking on Stuart's review.
Tamagotchi comes out today courtesy of Manga Entertainment, so toddling anime fans, prepare to throw a tantrum in your local Tesco. Manga also released the X Movie back when DVDs had just been invented, while MVM released the Berserk Box of War Collection last Monday.