Vinnie Jones in Assault of Darkness this August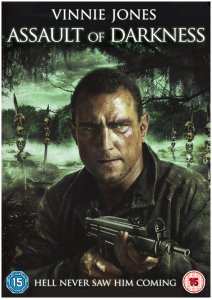 ASSAULT OF DARKNESS
EVIL NEVER SAW HIM COMING
STARRING ICONIC HARD MAN VINNIE JONES (LOCK STOCK AND TWO SMOKING BARRELS, X-MEN: THE LAST STAND, THE MIDNIGHT MEAT TRAIN)
DVD Release date:
17th August 2009
Running time: 90 minutes
DVD RRP: £12.99
Cert:
15  
When the depths of an old swamp are inadvertently disturbed, the body of a man who was murdered over 2,000 years ago is awakened and rises to brutally revenge his death. Now, it's up to a group of strangers lead by a mysterious hunter (VINNIE JONES) to venture in to the dark wilderness to put an end to the rampaging evil. 
ASSAULT OF DARKNESS is an exhilarating action horror in the tradition of PREDATOR, THE DESCENT and Steven Segal's AGAINST THE DARK.  
Please note there are no special features.