Labour Pains with Lindsay Lohan out in August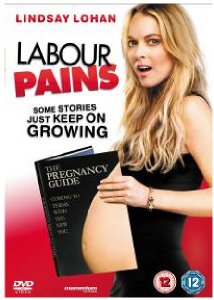 LINDSAY LOHAN
as you've never seen her before...
LABOUR PAINS
SOME STORIES JUST KEEP ON GROWING
Lindsay Lohan is beloved by the paparazzi on both sides of the Atlantic, but even these hardened gossip peddlers would be shocked by her latest exploits.  Yes, Miss Lohan is pregnant.  Don't believe us?  Well check out the brand new DVD release
Labour Pains
, out
31 August 2009
.
A comedy of giant proportions,
Labour Pains
tells the story of Thea Clayhill, a girl whose professional life is about to get as out of control as her personal life.  Resorting to a shambolic ruse, Thea soon finds herself heading towards disaster. 
Who better to bring the hilarious story to life than Lindsay Lohan, a girl who's adept at getting herself both in and out of all sorts of oddball situations?  So if you like your entertainment to be larger than life, check out
Labour Pains
.  You'll soon find yourself craving for more.
Synopsis
Thea is late with rent cheque, her personal life is in a mess and she is about to get fired from her job by the boss who's set out to make her life a misery.  In a last ditch attempt to buy herself some time and keep her job she pretends to be pregnant.  Now she's got to keep up the lie for nine months, kick starting a hilarious chain of events in this comedy of great expectations. 
Release Information:
Release Date:            
31st August 2009
Credit:                        
Momentum Pictures
Running Time:           
85 minutes (approx)
Format:                      
DVD
Cert:                           
12
RRP:                         
   £12.99
Cat No:          
            MP983D
Barcode:
                     5060116724684
Extras:                        
Trailer