Anime Review Roundup
Mnemosyne has been licensed… By a twit
So what is it with these DVD companies anyway? They have set budgets for marketing and advertising, they have PR companies to facilitate this, to get their message out in the ether, they even have their own websites, with news releases, forums to interact with customers, trailers and even whole episodes of anime for fans to sample. They get a juicy bit of news, and where do they break it? Twitter! No images, just 140 characters, no details, just a passing comment, which let's face it hardly anyone reads. Thousands of pounds spent on marketing, all boiled down to a tiny little tweet.
I don't use Twitter, no one I know uses Twitter, it's just a passing fad, the new Facebook, social networking for people who want friends, but not friendships. Fortunately someone who likes anime uses Twitter, otherwise I would have completely missed out that Manga Entertainment have licensed Rin - Daughters of Mnemosyne. If you recall, this was going to be a 4Digital Asia Japanese language release earlier this year, but that fell through when Funimation licensed it for US release. Funimation are in the process of dubbing the show right now, which means that when the eventual Manga Entertainment release arrives, it will be dual language. Also, given the BBFC's recent hands off approach to Shigurui - Death Frenzy, it makes it all the more likely that Mnemosyne, with its graphic sex and violence, will also get through unscathed.
Here's the news report from Anime UK News
Here's the original tweet, twit, twat, whatever…
More Online Anime
This week, I would like to talk to you about Hyakko, which is currently streaming on Crunchyroll. Here's their blurb first…
Quote:
Hyakko takes place in the high school division of Kamizono Academy, a fictional gigantic private institution located in Kyushu, Japan, in which the motto is "to bring up talents of students in all departments and fields". Its storyline focuses on the comedic school to high school life of the four main characters, Torako Kageyama, Ayumi Nonomura, Tatsuki Iizuka, and Suzune Saotome. As the plot progresses, Torako and her friends gradually begin to learn and interact with their classmates in Class 1-6, in which each student has unique and extraordinary personality.
If you liked Azumanga Daioh, then you will like this. It has the same random high school comedy ethos, although it's a lot more boisterous and energetic. In school, friends form in cliques, like minded groups and trend followers, the sporty girls, the smart girls, the gossipers and so on. But what about those who come together through coincidence? Hyakko sees unlikely friendships form between four girls who all happen to get lost between classes on their first day of high school. Torako is the energetic go-getter, the loud leader with no destination in mind. Her friend Suzune is a little odd, quiet, but strong-willed. Ayumi is shy, demure, and cute, while Tatsuki is the upright elegant, right-thinking conformist. They should rub each other the wrong way, and they do. They also become fast friends. Of the season so far, this has to be my favourite of the lot. It's hilarious, and it lacks that loli-yuri combination that Crunchyroll have been queasily pushing of late. It's now linked over at the right, and I urge you to click it.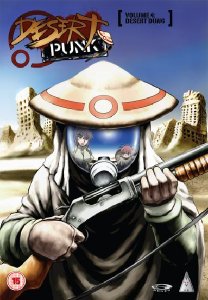 Just two anime reviews to be getting on with last week.
Desert Punk Volume 4
first, and I really ought to just leave it at 'more of the same'. If you like your post apocalyptic desert comedy with an emphasis on breasts, and one man's pursuit of the same, then Desert Punk does what it says on the proverbial tin. The best breasts of all aren't in this volume, and the last time that happened it was a disappointment, but volume 4's lack of Junko Asagiri is no impediment to your enjoyment of this disc. See how hypnotic animated boob jiggle can be by clicking the link.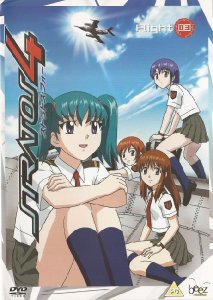 It was the final volume of Stratos 4 then, more animated female fanservice in other words. This volume has five episodes to conclude the story, and we get to see if teenage girls in form-fitting spacesuits can indeed save the world from a hail of comets, and an invasion of the Lesbian Bodysnatchers. It's all in the best possible taste of course, and made to satisfy a family friendly PG rating. Click my review of
Stratos 4: Volume 3
to see if I needed a cold shower at any point.
Desert Punk comes out today, courtesy of MVM. Stratos 4 was unleashed by Beez Entertainment years ago.