Ichi out in August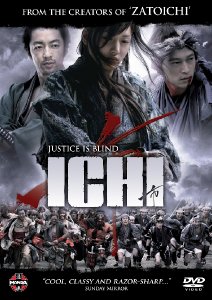 "ELEGANT, GOOD-LOOKING SAMURAI YARN THAT RECASTS THE BLIND SWORDSMAN OF THE ZATOICHI GENRE AS A DEMURE LITTLE VIXEN." - THE GUARDIAN
From Fumihiko Sori, the director of "Vexille" and "Ping Pong", comes the period martial arts action saga, ICHI, a bold, gender-bending reimagining of the classic "Zatoichi" series of films and TV shows that the Sunday Mirror has called a "super-stylish Japanese period action film."Originally created by novelist Kan Shimozawa, the eponymous hero - a blind masseur and master swordsman - has traditionally been a male character (previously played by stars such as Shintaro Katsu, Takeshi Kitano and, in "Blind Fury", by Rutger Hauer). In a refreshing break from tradition that adds an intriguing twist to the story, Sori's ICHI stars actress Haruka Ayase (Hero) in the title role playing a young and beautiful blind musician who also happens to be an adept swordswoman.
Travelling the country in search of the blind swordsman who raised her as a child and passed on his fighting skills to her before mysteriously leaving her life, Ichi is constantly struggling to deal with those eager to take advantage of her disability. During her quest she encounters and is threatened by a brutal gang of bandits. Another passing wanderer, Toma (Takao Osawa), steps in to rescue Ichi but finds he is the one being saved when she reveals a samurai sword hidden inside her walking stick and effortlessly despatches their attackers. The slaying of the bandits brings the wrath of their leader, Banki (Shido Nakamura), down upon Ichi and Toma and they reluctantly become embroiled in a battle for control of a village between Banki's gang and the local yakuza. However, Ichi's initial feelings about her involvement changes when she discovers Banki may know the whereabouts of the man she is seeking.
Co-starring Shido Nakamura (Red Cliff; Letters From Iwo Jima), Yosuke Kubozuka (Ping Pong) and Takao Osawa (Sky High), and with fight choreography by Hiroshi Kuze (responsible for the amazing sword fights in many of Akira Kurosawa's epics, including "Ran") and a superb musical score by award winning composer Lisa Gerrard (Gladiator), ICHI is a sublime and welcome addition to the "Zatoichi" movie canon.
ICHI (cert. 15) will be released on DVD (£17.99) and Blu-ray (£24.99) by Manga Entertainment on 24th August 2009. Features include: 16 x 9 anamorphic widescreen presentation; trailer; Japanese 2.0 audio with English subtitles (DVD only); Japanese 5.1 True HD audio with English subtitles (Blu-ray only).