Edifier launches new multimedia speakers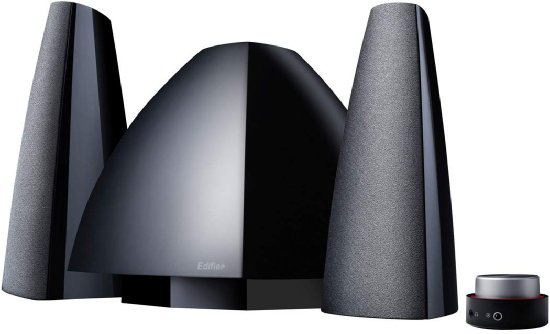 Edifier®, a supplier of visionary speaker systems supporting state-of-the-art design and extraordinary sound quality, continues to consolidate its position as a leader in the manufacture of high quality, multimedia speaker systems with its latest product launch.
The E3350 is part of the Edifier Lifestyle range. An exotic looking pyramid shaped subwoofer with super stylish satellites, makes the new e3350 a fashion statement in any home. The sound from the down-firing subwoofer is simply superb. With hi-tech crossovers for the anti-resonant satellites, Edifier has developed the E3350 to the highest standards. 
An ergonomically designed, wired volume control with red halo effect means the makes adjusting the volume easy, while the built-in headphone and MP3 jacks offer flexible listening options. Available in gloss black at only £69.99, the E3350 will fit into any home.
Features:
• Pyramid shaped down-firing subwoofer. 
• Magnetically shielded 2-way satellites with soft silk dome tweeters. 
• Pro-design 2-way satellite crossover. 
• Anti-resonant satellite enclosures. 
• Separate bass level adjustment on subwoofer. 
• Unique wired controller with red 'halo' power indicator includes headphone jack, and input for MP3, and CD players. 
• Soft touch on/off switch with red 'halo' lighting located on top of the subwoofer.
• Power output 50W RMS
Specifications: 
• Signal to Noise Ratio:>=85dBA 
• Distortion:<=0.5% THD 
• Input Impedance: 10K Ohm 
• Input Sensitivity: Satellites---550+/-50mV; Subwoofer---200+/-50mV 
• Frequency Response: 40Hz - 20kHz 
• Bass Unit: 5 inch driver, magnetically shielded, 5Ohm 
• Satellite Unit: 2.75 inch oval shaped driver,4 Ohm and 3/4 inch PV dome tweeter, magnetically shielded, 4Ohm 
• Dimension: Subwoofer --- 248 x199 x 294mm (W X H X D) 
Satellite --- 96 x 234 x 118mm (W x H x D) 
• Gross Weight: approximately 5 kg 
• Power Input: 100V-240V wide range AC power adapter,18V
Price and Availability:
The E3350 is available at £69.99 inc VAT and is in stock now at
Play.com
Look out for a review, coming soon!
About Edifier:
Established in Beijing, China, in May 1996, the Edifier Group quickly expanded overseas, and in 1998 developed into a transnational group company. Edifier is one of China's first specialized manufacturers producing genuine wood enclosure speaker systems, and one of the first groups of loudspeaker manufacturers who have successfully developed an exclusive international market.
The company has the envious position of occupying first place in the whole country in terms of output and sales volume, with over 6 million systems being sold in 2004. The Company operates two production bases in Beijing, and Shenzhen in China respectively, with full product R&D, plastic injection, machining, painting, silk-screen printing, and assembly. The R&D team is composed of dedicated acoustical engineers from Beijing, and North America. The Group has more than 2,500 employees, and manufacturing facilities covering an area of 1,000,000 square feet. The Company's head offices are in Vancouver, Canada, being mainly responsible for group strategy sales, product planning, and product R&D.
http://www.edifier.com