Mega Shark vs Giant Octopus hits DVD in August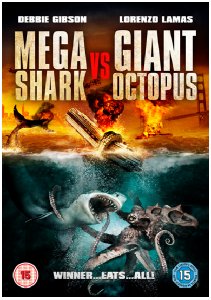 MEGA SHARK VS. GIANT OCTOPUS
MEGA SHARK VS GIANT OCTOPUS IS AN INTERNET TRAILER SENSATION WHICH HAS BEEN VIEWED OVER ONE MILLION TIMES ON YOUTUBE SO FAR IN LESS THAN SIX WEEKS
DVD Release date: 10th August
Running time: 89 minutes
DVD RRP: £9.99
Cert:
15
STARRING 1980s POP SENSATION DEBBIE GIBSON
MEGA SHARK VS GIANT OCTOPUS IS THE ULTIMATE BITE-SIZED B-MOVIE BLOCKBUSTER OF EPIC PROPORTIONS
From the depths of the ocean they came for the most titanic struggle ever witnessed. Two mythical beasts, defying the laws of nature and threatening the entire of humanity in a vicious battle to certain death! 
History will name the encounter:
Mega Shark Versus Giant Octopus
! 
80s pop sensation Debbie Gibson stars as maverick marine biologist Emma MacNeil. She witnesses a catastrophic collision with a rapidly melting glacier, unleashing two enormous behemoths trapped in the ice for millions of years locked in terrible, mortal combat! 
With the help of a military specialist tasked with destroying these beasts, MacNeil must stop the onslaught of disaster and mayhem. Ships are annihilated, planes fall the sky, bridges crumble, cities flee for their lives and the world stands on the brink of disaster at the fins and tentacles of the most fearsome monsters on the planet. 
The fight of a thousand millennia is about to kick off! 
Special features:
Bloopers
Trailer
The Making Of 'Mega Shark Vs Giant Octopus'