Paul Blart: Mall Cop out in August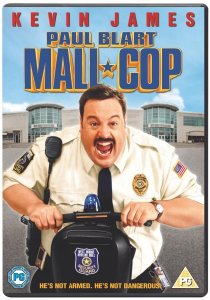 PAUL BLART: MALL COP
Don't Mess With His Mall!
The Biggest Comedy of The Year
Starring Emmy® Nominee Kevin James
Available on Blu-ray™ High-Def and DVD 10th August, 2009
Prepare for side-splitting laughter and heart-pumping action when Sony Pictures Home Entertainment releases
Paul Blart: Mall Cop
on high definition Blu-ray Disc and DVD on 10 August, 2009. The £5.4 million box office hit from Adam Sandler's Happy Madison Productions is packed with deleted scenes, hilarious outtakes, featurettes on the making of the movie and a commentary.
The
Paul Blart: Mall Cop
Blu-ray and DVD offer fans several bonus features on Kevin James' career and his thoughts on being a mall cop, the film's extreme sports actors and stunts, and behind-the-scenes featurettes on the making of the film! BD-Live users will also be able to participate in a peer-to-peer chat function called CineChat, which is exclusive to the Blu-ray disc. The Blu-ray disc will also include a Digital Copy of the film.
Synopsis
With a heart that won't quit, a stomach that won't stop gurgling and a self-sworn oath to protect his turf, he's Paul Blart: Mall Cop. Mild-mannered Paul Blart (Kevin James,
I Now Pronounce You Chuck and Larry
,
Hitch
,TV's "The King of Queens") has always had huge dreams of becoming a State Trooper. Until then, he patrols the local mall as a security guard. With his closely cropped moustache, personal transporter and gung-ho attitude, only Blart seems to take his job seriously. All of that changes when a team of thugs raid the mall and take hostages. Untrained, unarmed and a super-size target, it's up to Blart to save the day.
DVD and Blu-ray Disc Bonus Material
Deleted Scenes
"Fun on Set" - Fun, wacky moments on-set including hilarious outtakes
Commentary with Kevin James and Producer Todd Garner
"Kevin James: Not Your Average Mall Cop" - A look at Kevin James and his many roles as actor, producer and co-writer
"Stunts" - Stunts in the film
"The Mall" - Experience of shooting in a shopping mall
"On Set with Mike 'Rooftop' Escamilla" - Behind-the-scenes footage from a pro BMX biker
"Action Sports Junkies" - A look at the film's extreme sports actors
"Mall Cop Response" - A mall security guard takes on a pro skater
"Mike V. vs. Mall Cop" - A pro skater takes on mall security while spray painting the mall
 "Free Running vs. Parkour" - A look at the extreme sports of parkour and free running
"Thoughts with Kevin James" - Kevin James gives his random thoughts on malls, moustaches and how to become a mall cop
"Sugar" - Follow a free runner through the mall as he races to get Kevin James sugar for his coffee
Also, Only on Blu-ray™ High Def
Digital Copy of the film for the PC, PSP™, Mac or iPod
CineChat - Send onscreen messages to friends around the world while watching the movie together
PRODUCT INFORMATION
Title
Paul Blart: Mall Cop
Release Date
10 August, 2009
Format
Retail DVD / Retail Blu-ray / Rental DVD
RRP
£17.99 / £24.99
Certificate
PG
Genre
Family / Action Comedy
Running Time
1 hr 27 mins