Nasty Nick turns nice!
The nation's arch-villain - Nasty Nick from EastEnders - is nice after all!  The man we all love to hate (aka actor John Altman) was happy to show his good side and accept a  $150,000 cheque on behalf of children's charity Sparks from The Newman's Own Foundation, the charitable legacy of the late actor Paul Newman.
The money will go towards George's Appeal, a campaign in memory of neuroblastoma victim nine-year-old George Yeomans. George's parents, Helena and Martin Yeomans were also there to thank Newman's Own Foundation President and CEO Bob Forrester, who said: "Paul had a natural affinity with children. Of all the things he achieved in his life, he was most proud of his legacy in helping establish his Hole in the Wall holiday camps for children who did not have long to live.
"Paul died last year and we still miss both his tongue-in-cheek humour and his leadership. But we will honour his vision and we are proud to say that all profits from the Newman's Own range of salad dressings and marinades that he started more than 25 years ago will continue to be given to charity through the Newman's Own Foundation. Paul has gone, but his legacy lives on."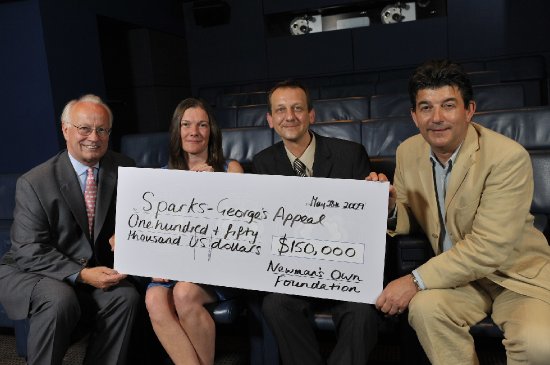 The Newman's Own Foundation presented cheques worth a total of £260k to UK charities as diverse as St Andrew's Youth Club, the oldest in the UK, Thames Valley and Chiltern Air Ambulance and the NSPCC. 
 Paul Newman was quick to acknowledge the good fortune he had in his own life, and acutely aware of how unlucky so many others were. True to his character, he quietly devoted himself to helping offset this imbalance.
An exceptional example is the legacy of Newman's Own. What started as something of a joke in the basement of his home, turned into a highly-respected, multi-million dollar food company. And true to form, he shared this good fortune by donating all the profits and royalties he earned to thousands of charities around the world, a total which now exceeds $265 million.
Other full list of charities which benefitted from a donation are:
Bone Cancer Research Trust
Caravan
Centrepoint
Chance UK
Derian House Children's Hospice
Maggie's Centre
Marie Curie Cancer Care
Momentum
NSPCC
Peter McVerry Trust
Rockinghorse
Royal National Institute for Deaf People
Sparks - George's Appeal
St Andrews Youth Club
Thames Valley & Chiltern Air Ambulance
The Trussell Trust
Tommy's