Vicky Cristina Barcelona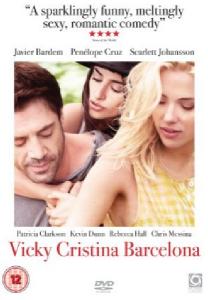 From the director of

Manhattan,
Annie Hall
&

Match Point
Oscar / BAFTA / Golden Globe winner!
Best Supporting Actress - Penelope Cruz
"Sexy, hilarious and hugely entertaining. Brilliant performances."
****
EMPIRE
"Delightful"
MAIL ON SUNDAY
"Funny, sexy, charming"
****
HEAT
"Up there with Annie Hall"
****
LONDON LITE
Written and directed by Woody Allen
Starring
Rebecca Hall,
Penélope
Cruz, Javier Bardem and Scarlett Johannson
Out To Own On DVD & Blu-ray
22nd June 2009
Winner of the Golden Globe for Best Picture - Musical / Comedy, Woody Allen's
VICKY CRISTINA BARCELONA
features remarkable and much nominated performances by Scarlett Johansson, Penélope Cruz, Javier Bardem and Rebecca Hall. The latest film from the legendary director marks a return to the peak of his powers, as he skilfully crafts a hilarious and touching look at love and relationships.
Two friends (Scarlett Johansson and Rebecca Hall) on a summer holiday in Spain become involved with the same painter (Javier Bardem), unaware that his fiery and volatile ex-wife (Penélope Cruz) is about to re-enter the picture. 
Extras:
trailer
Tech specs: Region 2 / Cert: 12 / Feature Running Time: 92 mins approx / Feature Aspect Ratio: 1.85:1  / Colour PAL / Audio: stereo 2.0
English Language / Cat no: OPTD1574 / RRP: £17.99