The Wrestler out 1st June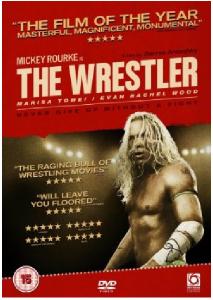 From the director of

Requiem for A Dream,
Pi & The Fountain
"Mickey Rourke is the new Rocky"
SHORTLIST
"Mickey Rourke is astounding"
ARENA
"I watch very few movies that can not be improved on - this is one of them.
A majestic masterpiece
The bravest and best picture of the past twelve months - I loved every mythic moment of it"
*****
Chris Tookey, DAILY MAIL
"A Master-class in acting
Spectacular"
*****
Q MAGAZINE
"Masterful, magnificent, monumental"
"Mickey Rourke in cinema's greatest comeback"
"The film of the year"
"An incredible achievement"
*****
DAILY MIRROR
Winner of the Golden Lion in Venice
Winner Golden Globe for Best Actor
Nominated for 2 Oscars and 
Produced and directed by Darren Aronofsky
Starring
Mickey Rourke,
Marisa Tomei & Evan Rachel Wood
Out To Own On DVD and Blu-Ray
June 1st 2009
Back in the late '80s, Randy "The Ram" Robinson (Mickey Rourke) was a headlining professional wrestler.  Now, twenty years later, he ekes out a living performing for handfuls of diehard wrestling fans in high school gyms and community centers around New Jersey. Estranged from his daughter (Evan Rachel Wood) and unable to sustain any real relationships, Randy lives for the thrill of the show and the adoration of his fans. However, a heart attack forces him into retirement.  As his sense of identity starts to slip away, he begins to evaluate the state of his life -- trying to reconnect with his daughter, and strikes up a blossoming romance with an aging stripper (Marisa Tomei).  Yet all this cannot compare to the allure of the ring and passion for his art, which threatens to pull Randy "The Ram" back into his world of wrestling. 
Extras:
Making Of
documentary / Interview with Mickey Rourke / Theatrical trailer 
Tech specs: Region 2 / Cert: 15 tbc / Feature Running Time: 105 mins approx / Aspect Ratio: 2.35:1 / Colour PAL / Audio: Dolby Digital 5.1  / English Language / Cat no: OPTD1554 / RRP: £17.99