The Acid House arrives in June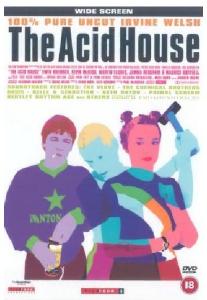 Let Irvine Welsh take your senses on a mind-blowing trip to…the Acid House
Starring Ewen Bremner, Martin Clunes and Jemma Redgrave, Film 4 brings this BAFTA nominated classic written by Irvine Welsh to DVD on 1st June 2009. 
Acid House combines Irvine's characteristic savage humour with hard-talking drama and has adapted three of his short stories into one powerful, explicit and savagely funny film. 
The Acid House
reaches into the hearts and minds of the 'chemical generation' and delves into the dark, hidden corners of the human psyche. Get ready to take the trip!
The Granton Star Cause
: in the same day a young Leith lad is dumped by his football team, his girlfriend and his parents, arrested and beaten up by the police and turned into a fly by God, whom he meets in a pub.
The Soft Touch
: a man is too soft to do anything when his wife moves in with the thug upstairs.
The Acid House
: while tripping on acid, Coco Bryce is struck by lightning, causing him to switch bodies with a newborn baby 
Release Date: 1st June 2009
RRP: £15.99
Cat Number: F4DVD90013
Barcode: 6867449001395
Written by Irvine Welsh (Trainspotting)
Starring Ewen Bremner, Martin Clunes, Jemma Redgrave
Bafta TV Award Nominated