Dirk Warps his way to High Definition this Summer on Blu-ray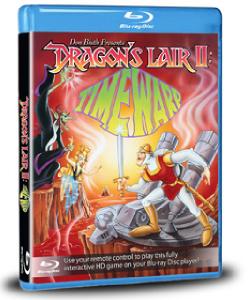 GORMLEY, Ontario, Canada - April 30, 2009 - Sharpen your sword and get ready to guide Dirk the Daring as he races through time to save the beautiful Princess Daphne from the clutches of the Evil Wizard Mordroc in Dragon's Lair II: Time Warp. This long awaited sequel to the award-winning game Dragon's Lair has been completely restored and enhanced with an all-new 5.1 surround sound mix and is now available on Blu-ray from Digital Leisure.
From legendary animator Don Bluth ('An American Tail', 'The Land Before Time') Dragon's Lair II: Time Warp allows you to play the heroic Dirk the Daring, who must stop the Evil Wizard Mordroc as he has kidnapped Princess Daphne and taken her through time! But you must hurry, for once the Casket of Doom has opened, Mordroc will place the Death Ring upon Daphne's finger in marriage and she will be lost forever… in the Time Warp!
Dragon's Lair II: Time Warp was authored in the Blu-ray Java environment (BD-J) and features completely remastered animation, and an all-new surround sound mix, creating a fully arcade-authentic experience.
"The visuals and story of this game really bring me back." says creator Don Bluth. "I haven't seen this game look this good since it was on film, before we put it to laser disc at just TV resolution, two decades ago. It looks and sounds better than ever. You gotta just love Blu-ray and what you can do with sound today. People are in for a real treat with this release!" 
This Blu-ray release includes the following special features:
- Interviews with game creators Don Bluth and Gary Goldman
- Picture in Picture video commentary from the creators
- Viewing Mode Options: Widescreen (16:9) or Anamorphic (4:3) video playback
- Watch Mode - Watch Don Bluth's stunning animation without playing
- Extras - An animatic of the lost 'Pirate Ship' scene, progression reel and more!
- Subtitles: English, French, Spanish, Italian and German 
All of the special features on the disc were shot natively in 1080p including all-new interviews with creators Don Bluth and Gary Goldman, and for the first time a full length visual commentary of the game. 
Dragon's Lair II: Time Warp Blu-ray will be available June 2nd at many software and movie retailers as well as online at
www.digitalleisure.com
.  Both Dragon's Lair and Space Ace are currently available on Blu-ray.