Kiyoshi Kurosawa's family drama Tokyo Sonata hits shelves in June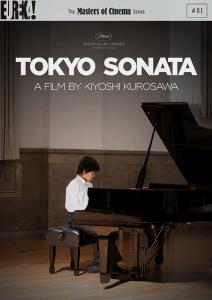 Tokyo Sonata, the latest film from Kiyoshi Kurosawa - the hugely acclaimed Japanese director famous for his groundbreaking, existential horror films such as
Cure
and
Kairo
[Pulse] - set Cannes alight in 2008 with a surprising change of pace to, that staple of Japanese cinema, the family drama.
When Ryuhei Sasaki (played by Teruyuki Kagawa) is unceremoniously dumped from his 'safe' company job, his family's happy, humdrum life is put at risk. Unwilling to accept the shame of unemployment, the loyal salaryman decides not to tell anyone, instead leaving home each morning in suit and tie with briefcase, spending his days searching for work and lining up for soup with the homeless. Outstanding performances; serene, elegant direction; and Kurosawa's trademark chills are evident as he ratchets up the unsettling atmosphere and the grim hopelessness of Sasaki's unemployment.
In today's economically uncertain times, this highly topical film - an eerie, poignant reflection on the mass uncertainty sweeping the world - is widely regarded as Kurosawa's finest achievement and was the only Japanese film to receive an award at the Cannes Film Festival 2008 (Jury Prize winner of Un Certain Regard).
Tokyo Sonata is showing theatrically in selected cinemas nationwide until June 2009 and is released on DVD and Blu-ray on 22 June 2009.
For further details please view www.tokyosonata.co.uk
SPECIAL FEATURES
• Luminous HD transfer of the film in its original aspect ratio
• Newly translated optional English subtitles
• Making Of Documentary (60 minutes)
• Japanese press junkets, cast and crew interviews, award ceremonies (39 minutes)
• Original UK theatrical trailer
• 28-page booklet containing a brand new essay by writer B. Kite.
''delicate, beautiful film with crushing relevance to the global economic crunch **** "
Jason Solomons , Mail on Sunday
"Film which grips the viewer from beginning to end" The Socialist Review
"Utterly Enthralling ****" Little White Lies
"Extremely Impressive ****" Time Out
"Essential Viewing ****" Neo Magazine
"Wonderful Drama ****" The Big Issue
"Witty, Intelligent Treat ****" The Guardian
"Uplifting ****" The Metro
**** Total Film
**** The Financial Times
DVD Details
Release Date:
22 June 2009
DVD Catalogue No:
EKA40303
DVD Barcode:
5060000403039
DVD RRP:
£19.99
Certificate:
12
Running Time:
119 minutes Approx.
Format:
Colour
Genre:
World Cinema/ Drama
Director:
Kiyoshi KUROSAWA
Year:
2008
Country:
Japan
BLU-RAY Details
Release Date:
22 June 2009
Blu-ray Catalogue No:
EKA70003
Blu-ray Barcode:
5060000700039
Blu-ray RRP:
£22.99
Certificate:
12
Running Time:
119 minutes Approx.
Format:
Colour
Genre:
World Cinema/ Drama
Director:
Kiyoshi KUROSAWA
Year:
2008
Country:
Japan
[ENDS]