Anime Review Roundup
This has been a big, big week in the world of online anime, and if you partake of your anime in this way, you will be rubbing your hands with glee. There has been big news from both Crunchyroll and Funimation, so strap yourselves in…
New Shows On Crunchyroll
Crunchyroll first, and the Spring anime season is in full swing now, with shows like Saki and Shangri-La having started their runs last night. Look back a couple of blog posts for their spring line-up announcement. But they have now added more to their catalogue, the biggest of which is the simulcast of
Hayate the Combat Butler Season 2
, a quirky shonen harem comedy that has gathered a fair following of fans. The first episode was aired last Friday, and a new episode will go up every week. There's no word as yet as to whether they have the first series as well, but it doesn't matter, as the first episode of Season 2 acts as a chaotic reintroduction to the characters and the scenario.
Kigurumikku V3
and
Natsu no Arashi
are also two new acquisitions from Crunchyroll that hadn't previously been announced. Both broadcast their first episodes yesterday. Kigurumikku is a three episode OVA which offers a magical girl parody, while Natsu no Arashi is a science fiction romance (time travelling ghosts) series, and it looks as if there is more to come from Crunchyroll, with a couple of unannounced series slots tantalisingly left to be filled in the next few days.
Thanks to Anime News Network for those items, and it's thanks again to them for the Funimation announcements.
Old and New Shows on Funimation
Toei Animation
have signed an agreement with Funimation that allows them to stream classic episodes of anime through their web portal. Funimation already carries a whole gamut of their own programming, but Toei's shows are a welcome addition. They are currently on Crunchyroll and some other websites as well, but infuriatingly have been region-locked to UK viewers up till now. Not so with Funimation's site. In the next few weeks, titles such as…
Air Master
Captain Harlock
Digimon Adventure 02
Fist of the North Star
Galaxy Express
Pretty Cure
Slam Dunk
… will appear on the site, and I have to admit, I'm salivating over a couple of them myself. They've already started, and right now you can wander over and enjoy all of the first and second series of Fist Of The North Star. That's over 150 episodes!
Now the most expected announcement in the history of anime. The Full Metal Alchemist remake has a name to distinguish it from the original series. It will be called
Full Metal Alchemist: Brotherhood
. That's not the announcement by the way. It was initially announced that Animax Asia would broadcast it to most of South East Asia within a few days of the Japanese broadcast, then Madman Entertainment announced that Australian fans would get to see it as well courtesy of their website. Now Funimation have announced that they will be carrying the show on their web portal, beginning with the first episode on April 9th, and adding an episode a week thereafter. They also have the television and DVD distribution rights in North America. As I have often mentioned, Funimation do not block UK fans from viewing their content. So yay for us!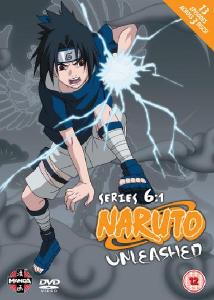 I was going to roll over this blog till next week, till all that juicy news showed up. It does mean though that this week will be light on anime reviews. In fact there's only the one,
Naruto Unleashed: Series 6 Part 1
. It's the moment that fans have been simultaneously looking forward to and dreading. Looking forward to, because we finally come to the conclusion of the Rescue Sasuke arc, and the confrontation between best friends turned bitter foes Naruto and Sasuke. Dreading, because this is where the filler begins, those 80 odd episodes where no manga story was forthcoming, so the animators had to make stuff up that supposedly entertained without moving the story forward one iota. If you're wondering, there's no Tony the Tiger in this set.

Manga Entertainment release Naruto's 11th instalment on the 20th of April. And should you require even more animated antics, and can settle for Canadian rather than Japanese animation, then you may want to look at my review for the
Raccoons Second Season
, which is due out also on the 20th, courtesy of Fabulous Films.