How To Lose Friends & Alienate People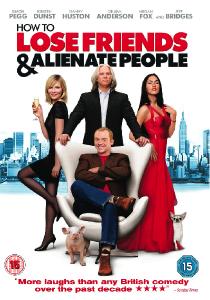 Funny man Simon Pegg is the socially inept Englishman in New York, out on DVD and Blu-ray on
March 16 2009
~
Simon Pegg (
Hot Fuzz, Shaun of the Dead
) is joined by an all-star cast including Kirsten Dunst (
Spider-Man
trilogy), Jeff Bridges (
Iron Man
), Gillian Anderson (
The Last King of Scotland
) and Megan Fox (
Transformers
) in the film adaption of Toby Young's international best-selling novel,
HOW TO LOSE FRIENDS & ALIENATE PEOPLE
.
Directed by Oscar nominee Robert Weide (
Curb Your Enthusiasm)
,
HOW TO LOSE FRIENDS & ALIENATE PEOPLE
chronicles Sidney Young's (Pegg) descent from promising journalist to dismal failure at
Sharps
, New York's most prestigious magazine
.
Sidney is convinced fame, success and beautiful girls will fall at his feet, the reality being that women cross the room to avoid him, he is an embarrassment to his colleagues and every publicist's worst nightmare. As he begins to doubt if he can make it in America, Sidney realises he needs to clean up his act in order to get the girl, the gorgeous starlet Sophie Maes (Megan Fox).
Award winning Pegg is on form as the blunt and downright irritating Sidney Young whose antics, bad manners and vulgar pranks lead to monumental mishaps with hilarious consequences. This smash hit comedy is a must own for all comedy fans.
HOW TO LOSE FRIENDS AND ALIENATE PEOPLE
is available to buy on DVD and Blu-ray on March 16 2009 from Paramount Home Entertainment

- ENDS -
DVD TECHNICAL DETAILS
SINGLE DISC EDITION
Title
How to Lose Friends and Alienate People Single Disc DVD
Release Date
March 16 2009
Discs
1 disc set
RRP
£19.99
Cert
15
Sound
Dolby Digital English 5.1 Surround
Running Time
Approx. 105 Mins
Special Features
- Commentary with Robert Weide & Simon Pegg
- Commentary with Robert Weide
- Deleted scenes with optional commentary
- Gag reel
- Simon Pegg Blogs
BLU-RAY EDITION
Title
How to Lose Friends and Alienate People Blu-ray DVD
Release Date
March 16 2009
Discs
1 disc
RRP
£24.99
Cert
15
Sound
5.1 Dolby True HD TBC
Running Time
Approx. 109 Mins
Special Features
- Commentary with Robert Weide & Simon Pegg
- Commentary with Robert Weide
- Deleted scenes with optional commentary
- Gag reel
- Simon Pegg Blogs