Billy Connolly - Journey to the Edge of the World out in March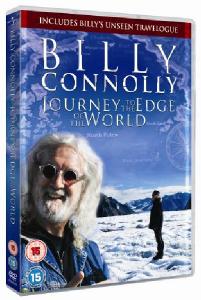 Billy
Connolly
Journey
to the Edge of the World
DVD Released by Universal Pictures (UK) Ltd on Monday 16th March 2009
The brilliantly charismatic comedian and actor Billy Connolly is back in his guise as a tour guide as he travels through the legendary Northwest Passage from the Atlantic to the Pacific. His adventures were filmed for a new ITV series, and this DVD release not only contains all four episodes in the series, but also includes, exclusively to the DVD, Billy's
unseen travelogue
- over 50 minutes of unseen video diaries and behind the scenes footage of Billy's journey.
The Northwest Passage is a fabled route that has thwarted explorers and fortune-hunters for centuries and claimed hundreds of lives. Now, for a few weeks in the summer, global warming causes the Arctic to melt and as the ice recedes, the passage is more accessible.
In
Journey to the Edge of the World
, we follow the intrepid comedian on a once in a lifetime trip across this unique and fascinating wilderness. We are presented with some of the most incredible panoramic views and unbelievable sights; it's almost like being on another planet. What overwhelms Billy the most is the friendliness and warmth of the people he meets along the way. Language is no barrier here and Billy's ability to communicate through laughter and bond with such fascinating happy people never ceases to amaze.
We look on in amusement when he learns how to be a bear whisperer and is taught how to pan for gold by an over protective miner. We're inspired when he attempts the finer complexities of the Inuit language and waxes lyrical abut icebergs and we are with him in spirit when he has a profound experience in a Native American sweat lodge. This DVD encapsulates some truly emotive and unique experiences, in an awe-inspiring and uplifting way that only the genius Billy Connolly can bring to life through the camera.
The ever-engaging Billy Connolly invites you to escape from the humdrum of a busy and stressful lifestyle and take this journey with him to the edge of the world from the comfort of your own home. What's it like to live on the edge on the world? Here's your chance to find out.
'One of the enduring wonders of the comedy world'
The Telegraph
BILLY CONNOLLY: JOURNEY TO THE EDGE OF THE WORLD, DVD Cert 15, RRP £19.99
Released by Universal Pictures Ltd on Monday 16th March 2009
© 2009 Universal Studios. All Rights Reserved.
The book

Billy Connolly - Journey to the Edge of the World

is published by Headline on 19 February 2009 (HB £20)
For more information, please contact Katie Phillips or Shahnaz Awan at
The PR Office on 020 7284 6969 or email
spillihpk[at]moc.ecifforpeht
/
nawas[at]moc.ecifforpeht
Billy Connolly Journey to the Edge of the World is an ITV Studios Production for ITV, transmission start date of 19th Feb