Before the Rains Arriving in March from Metrodome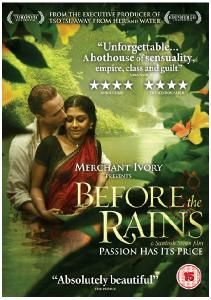 MERCHANT IVORY PRESENTS…
BEFORE THE RAINS
Starring Linus Roache
(Priest)
, Jennifer Ehle
(Pride & Prejudice)
and Nandita Das
(Fire
,
Water)
DVD Release date: 9th March 2009
Running time: 98 minutes
DVD RRP: £17.99
Cert:
12
"A handsome drama told with requisite style" - Guardian Guide
"Unforgettable... A hothouse of sensuality, empire, class and guilt" - Mira Nair
Legendary producers Merchant Ivory, the Academy Award Winning creators of 'Howard's End', 'The Remains Of The Day' and 'A Room With A View' present 'Before The Rains', a bold, intensely beautiful tale of romance torn between two worlds.
Southern India in the 1930s: against the tumultuous backdrop of growing national unrest an idealistic young man T.K. finds himself torn between his ambitions for the future and his loyalty to the past when people in his village learn of an affair between his British boss Moores (Golden Globe Nominee Linus Roache) and local village girl Sanjani. As he struggles with the new found freedom that revolution threatens to bring to a culture steeped in tradition, loyalty and honour, T.K. witnesses first-hand the tragedy, betrayal and intense passions which are ignited in a country teetering on the brink of history.
'Before the Rains' is a timeless and universal story from acclaimed filmmaker Santosh Sivan, director of international box office sensation 'Asoka'.
SPECIAL FEATURES
Exclusive director and cast interviews
Exclusive DVD commentary with Linus Roache & Santosh Sivan
5.1 Audio
Theatrical trailer