7-49 UP Arriving This Month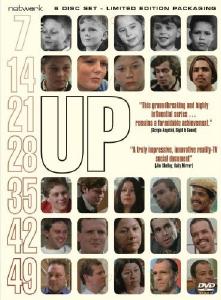 Arguably the best documentary series ever made for British television and certainly the longest running factual programme in the history of UK TV, Network is delighted to announce the release of 7-49 Up (E). The flagship ITV series about children from different social backgrounds made between 1964 and 2005 as they evolve through life will be available to buy on DVD for the first time in the UK in a 6-disc set, RRP £49.99.
The first instalment of 7-UP was broadcast in 1964 as a one-off World in Action special, featuring children talking about their hopes and dreams for the future. As members of the generation who would be running the country by the year 2000, what did they think they would become? Inspired by World In Action founder editor Tim Hewat's passionate interest in both the Jesuit saying: "Give me the child until he is seven and I will show you the man," and the rigid class system of 1960s Britain, Seven Up set out to discover whether or not the children's lives were pre-determined by their background.
This forward thinking television show - the very first example of a programme recording real people living real lives - and the follow-up documentaries - have won an array of accolades and awards. Director Michael Apted, who has since moved to Hollywood to direct films, has returned every seven years to chart the children's progress through life. Over the past five decades, the series has documented the group as they have become adults and entered middle-age, dealing with everything life has thrown at them in between.
Special features on this DVD are:
New exclusive interview with Michael Apted about making the series New featurette with Michael Apted on his career Audio commentary with series producer Claire Lewis plus film editor Kim Horton and cameraman George Jesse Turner on segments of 28 Up
***Ends***
NOTES TO EDITORS
7-49 UP (E) is a Network Release
Release Date: 16th February 2009
RRP: £49.99
Total Running Time: 500 minutes (approx.)
Screen Ratio: 1.33:1 Colour
7 Up
Interviewer MICHAEL APTED: Narrators DEREK COOPER and WILFRED THOMAS
Directed by PAUL ALMOND Produced by DEREK GRANGER
Original ITV Transmission 5 May 1964
7 Plus 7
Interviewed and Directed by MICHAEL APTED
Original ITV Transmission 15 December 1970
21-Up
Interviewed and Directed by MICHAEL APTED Produced by MARGARET BOTTOMLEY and MICHAEL APTED
Original ITV Transmission 9 May 1977
28-Up
Introduction by BILL ROACHE Executive Producer STEVE MORRISON Interviewed, Produced and Directed by MICHAEL APTED
Original ITV Transmission 19, 20 and 21 November 1984
35 Up
Interviewed, Produced and Directed by MICHAEL APTED Executive Producer ROD CAIRD
Original ITV Transmission 22 May 1991
42 Up
Executive Producer STEPHEN LAMBERT and RUTH PITT Interviewed, Directed and Produced by MICHAEL APTED
Co-Producer CLAIRE LEWIS
Original ITV Transmission 20 July 1998
49 Up
Produced by CLAIRE LEWIS Directed by MICHAEL APTED
Executive Producer BILL JONES
Original ITV Transmission 15 and 22 September 2005