Get Your 3D Glasses out for Horror Flick Scar 3D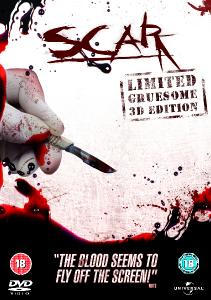 "Eyeball-popping, blood-spurting, scalpel-waving chills leap from the screen in petrifying 3D"
Filmy Frightfest



"If Hostel-style violence is your bag, then this nasty little horror number is just for you."

The Mirror.co.uk



"

Sensational torture scenarios (tongue removal, teeth bashing, embalming) in startling, pristine depth and clarity"

Fangoria





SCAR




The most gruesome and stomach-churning
horror film ever to be released in 3D is available to own and rent on DVD from 2nd March 2009
The nauseatingly gore filled horrors of SCAR will be available in petrifying 3D for a limited time only from 2nd March 2009. Grab your copy, which includes 2 pairs of free 3D glasses, and get ready to experience a truly scarring horror-fest.
In the small town of Ovid, Colorado, Joan Burrows (Angela Bettis) manages to escape from the evil clutches of Ernie Bishop, the local undertaker who had a penchant for the torture, mutilation and murder of teenage girls. As the sole survivor of Bishop's sadistic reign of terror Joan becomes the local hero.
Sixteen years later, still carrying the scars of her ordeal, Joan returns to her hometown for the first time to see her niece, Olympia (Kirby Bliss Blanton), crowned Prom Queen. Soon after her arrival, strange murders begin to take place, with teenagers - specifically Olympia's friends - being abducted and gory 'clues' are being left behind. At first, Joan fears that Bishop has somehow returned from the grave and fears for her own sanity.
This vicious and unrelenting serial killer goads one victim into ordering the torture and execution of another in order to reduce their own suffering. Packed with gruesome and blood chilling torture methods, as teeth are wrenched out and tongues removed, the victims are subject to both physical and mental agony. As the police begin to piece together the bloody clues, Olympia suddenly disappears and Joan is forced to confront her deepest fears and once again go after this brutal and barbaric maniac herself.
Major studios and star directors are embracing the fully immersive format of 3D to create multi-dimensional rollercoaster rides of terror on a never-before-seen scale. Be the first to witness the latest trend in full tilt action with Director Jed Weintrob's gore-in-your-face slasher,
SCAR
. Using cutting edge technology,
SCAR
launches the audience into a stunning 3D visual experience.
SCAR will be available in gruesome 3D for a limited time only so be quick, it is a true horror experience not to be missed by fans of bloodlust and gore.
Eyeball-popping, blood-spurting, scalpel-waving chills leap from the screen as you experience the bloody three dimensional thrills and spills of SCAR, yours to rent and own on DVD from 2nd March 2009. For the most terrorising 3D experience, view on a LCD or Plasma screen - you won't want to believe your eyes…
Cast
Angela Bettis
Kirby Bliss Blanton
Devon Graye
Ben Cotton
Director Jed Weintrob
DVD Technical Information
Release date: 2nd March
Copyright: ©2007 The Scar Company LLC - All Rights Reserved © The Works UK distribution LTD
RRP: £17.99
Running Time: 3D 1 hr 21 mins, 2D 1 hr 19mins
Rating: 18
Aspect Ratio: Anamorphic Widescreen 1.78:1
Audio: English 5.1 Surround. Dolby Digital
Warning: Contains very strong bloody violence, gore and sustained terrorisation