Fearne Cotton To Present Orange'S Red Carpet Programme At The Orange British Academy Film Awards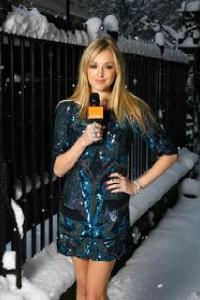 London. 2 February 2009.
Fearne Cotton has signed up with Orange to present an exclusive celebrity red carpet programme at the Orange British Academy Film Awards in 2009.
The BAFTA Film Awards are the most star-studded event in the British film calendar. Film fans and fashionistas alike can catch all of Fearne's interviews only at
orange.co.uk/bafta
from 9.30am on Monday 9 February.
Keira Knightley, Sienna Miller, Kevin Spacey and Ricky Gervais were just a few of the A-list names who appeared on last year's programme. The 2009 awards ceremony is likely to attract an equally high profile list of talent from nominated films which include The Curious Case of Benjamin Button, Slumdog Millionaire, Frost/Nixon, The Reader and Milk.
Fearne Cotton
commented: "I'm really looking forward to hosting the Orange Red Carpet programme this year. Fans of fashion know there's nothing quite like a red carpet in awards season for style spotting! The Orange British Academy Film Awards will be the ultimate place to see the world's biggest film stars and I can't wait to be in the thick of it."
Ian Smith, Head of Partnerships at Orange
, said: "We're delighted to be able to bring film fans closer to the action at the Orange British Academy Film Awards. Fearne Cotton will bring even more style to a glamorous night, and will no doubt charm all of the stars into giving us some brilliant and unique interviews for the Orange Red Carpet programme."
To watch Fearne Cotton's exclusive interviews from the red carpet at this year's Orange British Academy Film Awards, log onto orange.co.uk/bafta from 9.30am on Monday 9 February.
Notes to Editors
About BAFTA
The Academy exists to support, develop and promote the art forms of the moving image, by identifying and rewarding excellence, inspiring practitioners and benefiting the viewing public.
About Orange
Orange is a key brand of the France Telecom Group, providing mobile, broadband, fixed, business and entertainment services across Europe. It is one of the world's leading telecommunications operators with more than 170 million customers on five continents.
In June, 2006, Orange became the single brand for mobile, broadband and multi-play offers. In addition, Orange Business Services became the new banner for business communications solutions. Orange Business Services is present in 166 countries with network reach in 220.
In the UK, Orange provides high quality GSM coverage to 99% of the UK population. At the end of June 2008, Orange had almost 16.8 million customers in the UK - 15.8 million active mobile customers and over one million broadband customers.
Orange and any other Orange product or service names included in this material are trade marks of Orange Personal Communications Services Limited.
Further information about Orange can be found on the Orange website at
www.orange.co.uk
or the France Telecom group international website at
www.orange.com
and
www.francetelecom.com