Martin Freeman arrives in Hardware this February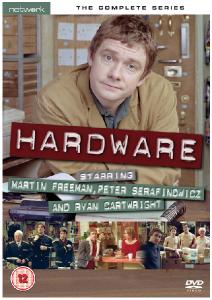 MARTIN FREEMAN STARS IN
HARDWARE
THE COMPLETE SERIES (12)
It's all happening down there at the Hamway's Hardware Store in London, with Martin Freeman and Peter Serafinowicz wreaking havoc and mayhem as two employees of the said establishment. From the creator of

Men Behaving Badly,

Simon Nye, comes another modern classic: HARDWARE - THE COMPLETE SERIES (12) is available to buy on DVD on 23rd February 2009, RRP £19.99. This is the first time that this gem of a series is released on DVD in the U.K; it comprises all twelve episodes from both series One and Two complete and uncut.
Martin Freeman (
The Office
) is Mike and he works at the Hamway's Hardware Store. Alongside Mike are the student trainee Steve (
Ryan Cartright - Twenty Thousand Streets Under the Sky
) and Kenny (
Peter Serafinowicz - Shaun of the Dead
). They make up the expert staff dealing with the hapless customers day to day. The one to oversee them all is boss Rex, who is in the throes of a mid-life crisis. The nearby café run by Julie is where Mike's girlfriend Anna (
Susan Earl - Holby City
) works, it is also where refreshment is provided and where the motley crew congregate. Amidst all the hilarity, Mike and Anna's relationship is very often tested and stretched to breaking point by regular outbreaks of laddish behaviour, dangerous DIY and the occasional unwanted house guests…
From the same person who brought the public
Men Behaving Badly
Simon Nye, with its wry sense of humour; realistic and less than glamorous settings; sharp, hilarious dialogues not to mention the incomprehensible and incomparable physical comedy, this is quintessential modern British sitcom at its best.
***
ENDS
***
Notes to Editor
HARDWARE - THE COMPLETE SERIES (12) is a Network release.
Release Date: 23rd February 2009
RRP: £19.99
No. of Discs: 2
Running Time: 300 mins (approx.)
Screen Ratio: 1.33:1/colour
Disc One
Episode Listing
NICE -
Mike believes that it's perfectly acceptable to be rude to customers - until an encounter with a particularly dithery punter results in the man's subsequent suicide attempt. He decides it's time to start behaving; however, his virtuous new personality impresses neither Anne nor his colleagues. Kenny, meanwhile, instructs Steve in the art of picking up girls, and Julie sets him up with a blind date…
NAKED
- Kenny thinks that the slovenly appearance of the staff at Hamway's Hardware may be putting off potential customers. But when he orders several sample uniforms to replace their scruffy overalls, he soon finds that he has a rebellion on his hands. Anne's flirtatious mother, Jean, comes to stay, and Mike finds himself the unwanted object of her attentions.
BONDAGE
- When Mike and Anne discuss their lacklustre sex life, Anne reveals that she would like to be tied up. Her pleas for discretion fall on deaf ears however, and the following morning finds that all the men at Hamway's Hardware advising Mike on the quality of rope.
FINGER
- while Mike and Anne argue over Anne's DIY attempts, all hell breaks loose in the shop when Steve lops off a finger in a lapse of concentration with the circular saw. Kenny and Rex rival one another for incompetence in the face of a crisis, and the severed digit has to be transported to hospital in a tub of ice cream. But is the lawsuit really imminent…?
WOMEN -
in an attempt to entice more women into the shop, a cardboard cut-out of a bikini-clad female is installed; Steve re-dresses the figure in goggles and overalls. Mike is secretly tempted to an interview at the reviled Do A Lot Superstore, which is threatening local businesses. What Mike doesn't realise is that the whole interview, including his rendition of the company song, has been videotaped…
HUTCH
- WHILE Kenny's well-meaning attempts to build a guinea pig hutch for a local foster home are less than successful, Rex has some bad news: Edna, his wife of forty years, has left him. When Mike casually mentions that he could stay with himself and Anne for a while, the consequences of such an offer threaten to drive all to insanity…
Disc Two
Episode Listing
BASTARD
- business is slack so Rex decides that Kenny must go. Kenny is devastated. At the café, an artist offers Anne £1,000 to pose nude for him; Julie offers herself up for the cost of her bus fare after Anne turns down the offer. When Mike rashly proposes to leave Hamway's, Kenny accepts his offer with alacrity and a newly unemployed Mike is soon re-assessing the potential of Anne's nude modelling career…
BIG FOOT -
THE BOYS TRICK Rex into believing he's getting shorter because he's an old man, Rex's solution for his height issue turns out to be platform shoes. Mike volunteers to stand in while Julie goes on her holiday, an arrangement that Anne finds most dissatisfactory…
NUDE -
Mike's initial enthusiasm and excitement for his own DIY column backfires badly due to his poor penmanship and journalistic skills. Readers start seeking compensation when they discover that he is also lacking in DIY skills. Steve's sexual orientation comes under scrutiny after he is embraced by a camp young man…
LOSER -
WHEN Kenny brings his son to work, doubts are raised about the boy's heritage and the fidelity of Kenny's wife. Needless to say, much hilarity and disastrous scenarios ensue amidst the chaos of DNA tests and more drinking bouts and hangover groans…
TONY TOW-WAYS -
a demonstrator sets up in the shop to promote a brand new tool. Kenny writes him off as a loser, but due to Kenny's own lack of credentials, no one agrees with him. Meanwhile, Rex gets himself banned from the café and he then tries to picket the establishment…
CELEBRITY -
when Mike struggles to walk after a football game, Rex comes to his aid with a wheelchair that he's picked up. Inspired by the presence of a celebrity in their café, Anne and Julie decide to fill the place with faked signed pictures, embarrassment looms when a genuine wheelchair user enters the shop and the celebrity returns to the café…