Boris Karloff classic The Ghoul Comes in a Special Edition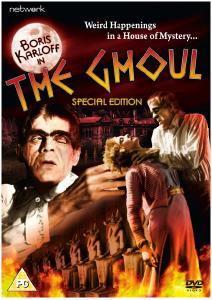 BORIS KARLOFF
IN THE GHOUL SPECIAL EDITION (PG)
From the depths of the Earth, he will rise…
Boris Karloff stars in the Network release of the terrifying horror classic THE GHOUL - SPECIAL EDITION (PG); this fully restored version of the film is available to buy on DVD on 23rd February 2009, RRP £14.99.
An eminent Egyptologist has purchased a precious stone stolen from an Egyptian tomb. A great believer and scholar of the ancient gods, he has the stone entombed with him in the hope that it will appease the gods after death. The Professor is not dead, however, but in a trance - and when the stone is stolen from his tomb, he returns as a ghoul, furious at the theft and anxious to seek his revenge and wreck havoc upon the lives of those responsible.
The first British film ever to be given the description: horrific, THE GHOUL - SPECIAL EDITION was thought lost for many years until a subtitled - but of poor quality - print surfaced in Prague. Many years later a copy of the uncut British print was found, and it is this version which has undergone extensive digital restoration for this release. Boris Karloff is wonderfully supported here by Cedric Hardwicke (
The Ten Commandment
) and Ralph Richardson (
Dr. Zhivago
). This is a landmark film and a staple in the collection of any fans of classic horror, or classic films.
Special Features:
Audio commentary with horror critics Stephen Jones and Kim NewmanCommemorative booklet written by Stephen Jones.

***
Ends***
THE GHOUL - SPECIAL EDITION (PG) is a Network Release
Release Date: 23rd February 2009
RRP: £14.99
Total Running Time: 81 mins (approx.)
Screen Ratio: 1.33:1 Black and White