Hard Times out mid February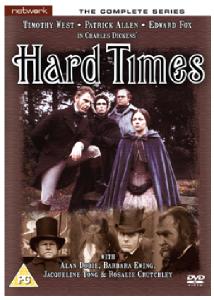 CHARLES DICKEN'S
HARD TIMES - THE COMPLETE SERIES (PG)
Network is pleased to announce the release of HARD TIMES - THE COMPLETE SERIES (PG). This critically acclaimed, BAFTA - winning series is based on the great 1854 novel of Charles Dickens of the same title, and is available to buy on DVD on 16th February 2009, RRP £14.99.
Set in the northern industrial town of "Coketown", two characters personify contemporary attitudes that Dickens found odious: self-made mill owner Joshua Bounderby - "a man perfectly devoid of sentiment" given to ludicrously exaggerated accounts of his own impoverished childhood; and Thomas Grdgrind - a schoolmaster who prepares his pupils for a life in which facts and figures are all that matter, and who pushes his young daughter Louisa into a loveless marriage with the much older Bounderby. Yet what the despicable, materialistic parents cannot foresee is the arrival of a travelling circus in Coketown. From that moment on, Louisa and her brother, Tom, are introduced to a new world of laughter, love and frivolity, and their lives are changed forever…
Dickens paints a scathing, relentless portrait of the harsh and degrading living and working condition endured by the urban working class in Victorian Britain, and of the political and value system that perpetuated the people. In the capable and safe hands of director John Irvin (
Champions
), Dickens's imagination is brought vividly to life; his characters are also fully and perfectly inhabited by a dazzling cast that includes Timothy West (
Brass
), Patrick Allen (
The Wild Geese
), Edward Fox (
Gandhi
) and Jacqueline Tong (
Upstairs Downstairs
). HARD TIMES was originally screened as a four-part series in 1977.
***ENDS***
NOTES TO EDITORS
HARD TIMES - THE COMPLETE SERIES (PG) is a Network release
Release Date: 16th February 2009
RRP: £14.99
Total Running Time: 200 mins. (approx.)
Screen Ratio: 1.33:1 colour