The Heart of the Earth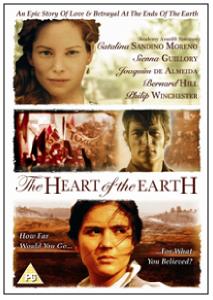 OUT FOR THE FIRST TIME ON DVD IN THE UK
DVD Release date: 9th February 2009
Running time: 98 minutes
DVD RRP: £15.99
Cert:
PG TBC
An Epic Story Of Love & Betrayal At The Ends Of The Earth
Starring Bernard Hill ("Titanic", "Lord Of The Rings") and Academy Award Nominee Catalina Sandino Moreno ("Maria Full Of Grace", "Che") "Heart Of The Earth" is an epic of the human spirit's endurance in the face of fate and the march of history.
Set around the sweeping backdrop of the vast wealth-baring mines of Andalusia's Rio Tinto in 1888, "The Heart Of The Earth" is the heart-wrenching story of two women from different worlds. Fiery Spaniard Blanca and British aristocrat Katherine have been friends since childhood. With their world steeped in turmoil and unrest, both women must struggle against the social upheaval that threatens their lives and their loves.
As revolution threatens the fabric of the country, treachery and betrayal become common currency. In order to hold onto that friendship, they must make a terrible choice before Rio Tinto erupts into violence and tragedy.
In the spirit of "Love In The Time Of Cholera" and "Captain Corelli's Mandolin" comes a story of passion, heartbreak and triumph.
Please note - there are no special features.