Asheridge Helps Industry Get To Grips With HDMI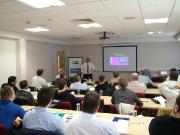 Asheridge Communications has announced that more than 120 custom installers and AV integrators attended its recent series of high-level seminars aimed at solving common HDMI TM problems.
Led by one of the world's top authority's on HDMI TM, Jeff Boccaccio, President of the US based testing and standards organization, DPL Labs, the Asheridge HDMI TM Roadshow comprised dedicated half day education sessions and testing workshops. These took dealers through every aspect of the HDMI TM interface, exploring HDMI TM eye patterns, display data channel corruption, bandwidth, capacitance losses and other problems. The event also provided the platform for Asheridge to unveil its new distribution deal with Ethereal Home Theater. Asheridge is now the exclusive UK distributor for the company's extensive range of high quality HDMI TM cables and accessories - the only DPL rated HDMI TM cables currently available on the UK market.
The Asheridge HDMI TM Roadshow took place at three locations across the country in London, Banbury and Manchester, attracting a nationwide audience of dealers.
"HDMI TM is a massive issue for AV integrators today" says Kevin Swanton Sales Director at Asheridge Communications. "These events were designed to put HDMI TM into context and provide dealers with practical solutions to common site problems. Those who attended received impartial advice from a man who knows HDMI TM inside and out. They were also able to understand the importance of the HDMI TM cable in these scenarios and preview and test the quality of Asheridge's new Ethereal range."
The Asheridge products on display included an extensive choice in HDMI TM cables, featuring the Ethereal Platinum and Silver range, and products with the added capability to deliver HDMI TM over Cat 5 and Coax. For more information on HDMI TM issues and the Ethereal Home Theater range of cables, visit
www.ashcomms.com
. More information on Jeff Boccaccio is available from
http://dplrating.org
.
What delegates said about the Asheridge HDMI TM Roadshow
"I found the morning really informative if not scary. I guess forewarned is forearmed but it looks as though there are a lot of issues on their way for us to contend with."
"It was a very good session. Jeff is knowledgeable and enthusiastic and had some of the best power point slides ever seen. It was a great afternoon and incredibly informative, please thank Jeff for a great show."
"Thanks very much for a most informative seminar. It hit the spot for me as it dispelled some of the myths and explained all of the pitfalls that I had already heard about HDMI TM connectivity. It goes without saying that you picked an excellent speaker who knew the subject and was also a good entertainer, which really helps when the subject matter was really about the pitfalls of a technology that we are all going to have to get used to."
"I found the roadshow very informative, and thoroughly enjoyed the presentation."
"A good day I thought, not only for Jeff's session, but also to see the level of kit required getting to the heart of the timing issues. Most AV folk are reluctant to get an oscilloscope out let alone anything sophisticated."
"Thanks very much for putting on the event yesterday. At a technical level it was both enjoyable and informative."
"I thought the event was very worthwhile and that I definitely gained some useful knowledge on HDMI TM."
"Thanks for the educational morning at the Holiday Inn - much appreciated. Really good to see some of your new products (I know who to go to now!)"
About Asheridge Communications
Asheridge Communications provides the UK AV professional with a wide range of leading brand solutions. The company recently won two awards in the highly coveted Inside Hi-Fi and Custom Installer Awards. The company won the prestigious Distributor Of The Year accolade and Asheridge's Area Sales Manager (South/South East regions) Jason Dando secured the Salesman of the Year title. Products available from Asheridge include high quality audio visual distribution equipment, cables and components, home networking systems, testing devices and other products. Asheridge is partnered with the following leading brands, including, ZON, Dymo, Fluke Networks, SCION, Keene, Hellermann Tyton, MuxLab, PureLink and Thomas & Betts, and provides installers with full training and technical support on all products. For more information and online sales please visit
www.ashcomms.com