Anime Review Roundup
Santa's Sleigh Skidclamped
It's not another credit crunch story, but those of you looking forward to Manga Entertainment's release of Always My Santa this year will have to wait another twelve months after the disc was delayed. It's an ecchi comedy from the pen of Love Hina and Negima creator Ken Akamatsu, and it was due next week. It's a disappointing and lengthy delay, but admittedly there isn't another appropriate time to release an anime with Santa in the title.
More on the Naruto on Crunchyroll revelation
Following last week's stunning announcement, further details have become clear. First of all, the deal with TV Tokyo to stream the Naruto episodes doesn't just stop at the tangerine ninja. Come January, several anime series will join the line up, including Shugo Chara!, Skip Beat! and Gintama. Read more at
Anime News Network
. You can also find a related story where
Dattebayo
, the group renowned for fansubbing Naruto in the past, have announced that from January they will cease doing so.
More on Will Smith's Oldboy
We can all breathe a sigh of relief, as it turns out that Spielberg and Smith won't in fact be ruinously adapting the stunning Park Chan-Wook movie, instead they'll be working from the
original Oldboy manga
, and will be putting that through the Hollywood script food processors to reduce it to an anodyne shadow of the original property. Cynical, moi?
This week's free and legal online anime is…
One Piece, Dragonball and Tegami Bachi. Before you get too excited, it's not the ongoing series, rather the anime specials that were screened at the Jump Super Anime Tour events. They're online until the end of January, and you can read about the convoluted process involved in watching them
here
.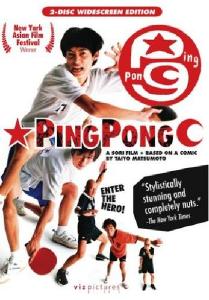 This is probably my most tenuous anime review link yet, but what can I say? It's been a slow week.
Ping Pong
is based on a manga written by the creator of Tekkonkinkreet, Taiyo Matsumoto, and it's not to be confused with the Ping Pong Club anime. But such an astounding movie deserves to have its trumpet tooted twice, which is why I recall the review here, and urge you to find a couple of hours in your life to devote to the film. It will be time and money well spent, watching in my opinion the best sports movie ever made. I took a look at the US release, which comes with a whole other disc of extra features. There is a UK disc available, but it's woefully underspecced.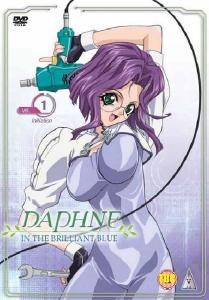 I did get to see some actual anime this week when all was said and done, but
Daphne In The Brilliant Blue
isn't going to win any awards for originality, excellence, quality art design, animation, music, voice acting, direction, or best production with the word Daphne in. It is however in the running for best depiction of naked women who aren't actually naked, running, jumping, battling, shooting, detecting, saving cats, fighting crime, jiggling and bouncing without ever falling out of their costumes. I'm waiting for the live action adaptation.
Depending on where you look, MVM release Daphne In The Brilliant Blue: Volume 1 today, or on the 1st of December. The majority opinion says next week. Ping Pong is available from Viz Pictures via any reputable importer.