Out of This World Sarah Jane Signing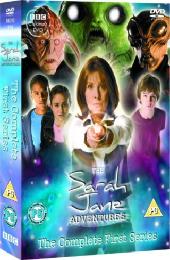 Out of This World Sarah Jane Signing
Come and meet your favourite stars from this stellar show!
Borders Oxford Street
15th November 2008
12-4pm
To celebrate the much anticipated second series of The Sarah Jane Adventures, airing every Monday on CBBC, we have an out-of-this-world signing with Sarah Jane and her companions Clyde and Luke, played by the talented Elisabeth Sladen, Daniel Anthony and Thomas Knight. Launching just in time are BBC Children's Books four fantastic new novels, the complete Series One DVD and two exciting new audio-exclusive stories from BBC Audiobooks.
The Sarah Jane Adventures is an action-packed series from the makers of Doctor Who and has captured the imagination of children across the UK. Filled with exciting adventures, intergalactic goings on and more monsters than you could shake a sonic lipstick at!
Come to Borders on Oxford Street for this once in a lifetime opportunity to meet your favourite stars up-close. For 50 lucky fans there is also a chance to attend a one-off storytelling by Elisabeth Sladen who plays Sarah Jane in the television series. For details of the competition and to be in with a chance of winning a place fans must visit the Borders store or online at www.borders.co.uk
Day Schedule:
12pm - Lis Sladen exclusive storytelling for competition winners
12.30-1pm - signing for competition winners
1.30 - 4pm - Public signing
Product Details:
Sarah Jane Adventures: Whatever Happened to Sarah Jane?
Day of the Clown,
The Lost Boy
The Last Sontaran
Released on 6 November 08
RRP: £4.99
Sarah Jane Adventures: The Time Capsule and Ghost House
Released on 13 November 2008
RRP: £5.99
Download RRP: £3.60
Duration: 1 hour on 1 CD
Sarah Jane Adventures: The Complete First Series DVD
Released on 10 November 2008
RRP: £24.99
Duration: 336 minutes on 4 discs
Extras included