Anime Review Roundup
Crunchyroll's Time Of Eve
More and more companies are coming around to the idea that while anime may not be the first choice for most television networks, the Internet is a great way to get one's product out there, and earn a little cash from advertising and downloads as well. Funimation continue to make inroads into the world of the Web, with more and more series being streamed from their own site, as well as sites like Youtube and now exclusively for US customers, Hulu.com and Joost.
For worldwide consumption, you can't go far wrong with Crunchyroll, whose rehabilitation into an outlet for legitimate online anime proceeds apace. Now DIRECTIONS, Inc have teamed up with them to debut a new anime series starting from October 2nd. Time of Eve will be available to purchase for download, while capable of being streamed for free, supported by advertising. It looks to be an interesting show about androids and their place in human society. Read more of the press release at
AnimeOnDVD
.
Oktoberfest Approaches
A while ago, I mentioned the forthcoming Oktoberfest from Sci-fi London, and the weekend of sci-fi, zombie and anime delights that were promised by its organisers. Well, the 3rd of October approaches with the inevitability of death and taxes, and Manga Entertainment have released further details of their contribution to the extravaganza.
_____________________________
JOIN THE FUN AT THE SCI-FI LONDON OKTOBERFEST 2008 ON FRIDAY 3RD OCTOBER AT THE APOLLO WEST END!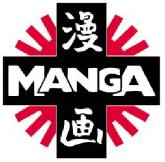 On Friday 3rd and Saturday 4th October, Sci-Fi London will be hosting an unmissable festival at the Apollo West End in association with Electronic Arts and Manga Entertainment.
The festival is an all-night affair running on 3 screens in one of London's most luxurious cinemas in the heart of Piccadilly. The program is split into the Zombie All-Nighter featuring Manga's very own super mad Tokyo Zombie, and a UK exclusive screening of Chanbara Beauty from Geneon Entertainment.
The big draw of the night though, has to be the UK premier of Dead Space Downfall as part of the Anime All Nighter program. Dead Space Downfall is the feature length animated prequel to the highly anticipated survival horror game from EA, Dead Space TM for Xbox 360, PC and Playstation 3.
Beez in association with Bandai Visual and Studio Bones are also delighted to include the UK premier of Sword Of The Stranger, as part of the Anime All-Nighter, the incredible new action-adventure feature film from the acclaimed Studio Bones.
According to Jerome Mazandarani, Marketing Director of Manga Entertainment - "Stranger is the most action-packed and exciting anime feature I have seen this year. It's definitely my favourite anime release of 2008 and Manga and Sci-Fi London are very pleased to be able to work with Beez in showing the film early to UK audiences".
Rounding off the fantastic Anime All-Nighter Program is the UK debut of Hellsing Ultimate Episodes 1 and 2, and the action-horror anime, Strait Jacket from Bang Zoom.
Below is a list of the terrific Manga films you can feast your eyes on which are screening at this years Oktoberfest. So don't miss this unbelievable line up!
Sci-Fi London Oktoberfest, Apollo West End, London, Friday 3rd October:
Strait Jacket (Japanese audio with English subs)
Tokyo Zombie (Japanese audio with English subs)
Bleach The Movie (Japanese audio with English subs)
Hellsing Ultimate Episode 1 (Japanese audio with English subs)
Hellsing Ultimate Episode 2 (Japanese audio with English subs)
Dead Space Downfall
Chanbara Beauty (Japanese audio with English subs)
Tickets are now on sale from the Apollo West End Box Office.
Tel: 020 7451 9944
Or go to
www.apollocinemas.co.uk
___________________________
Neo Tokyo As You've Never Seen It Before
The masterpiece that got so many hooked on this visual opiate called anime, was Katsuhiro Otomo's Akira, which twenty years ago came and completely changed the rules of what animation was capable of. It's still the landmark title that everyone thinks of when it comes to anime, and at long last it's getting a High Definition release. It will come to Japanese shop shelves in February 2009, and not long after will be released in the US by Bandai Entertainment under their Honneamise label. Manga Entertainment, who hold the licence in the UK have yet to venture into the world of Bluray, but if one title is going to be the first, then I'd be hard pressed to think of any other besides Akira. Read more at
AnimeOnDVD
.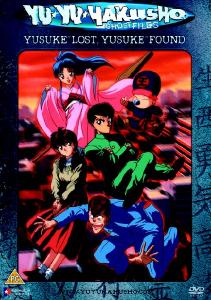 After a brief pause for breath, it looks as if the anime reviews are picking up again, although I did begin last week by stepping back in time to review volume 1 of
Yu Yu Hakusho
. It's one of those niggling long run series that never picked up steam or a sizeable audience in the UK, and after just five volumes of mediocre shonen action it vanished into the mists of time, never to be thought of again. Except by me that is, as part of my reviewer commitments meant that I had to review the show for the site. Only I joined in the dubious fun at volume 2, straight into the long running tournament combat action, with fights stretching over two volumes and more. But that missing first volume has irritated me for years, and finally it's come down to a price I figure worth paying. Imagine my surprise when volume 1 turns out to be pretty darn good!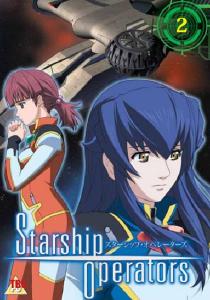 Then on Thursday, I got to grips with the second volume of
Starship Operators
. The opening volume offered an interesting premise of space opera combined with reality TV, a sort of Big Brother Star Trek. It was appealing to say the least, with an advanced starship full of cadets vowing to fight on against an oppressive invader, even when their government rapidly capitulated. To fund their campaign, they sell the television rights to a galaxy wide network. While the realistic science, and well thought out strategies impressed, I felt that the show borrowed heavily from the submarine combat genre, offering us rather tense but static action sequences. Volume 2 comes along and relocates the story to the surface of a planet, and it looks as if my previous gripes have been addressed. Read more in the review.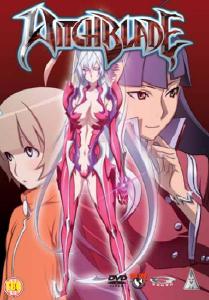 Finally on Saturday, I got another instalment of one of my favourite new series this year. Witchblade had all the hallmarks of a potential disaster. It's a futuristic sci-fi action series from Gonzo, who have been making the genre for so long now that they have squeezed every ounce of originality possible from it, as well as all the decent clichés. It's also an adaptation of a US comic, and Gonzo typically do better on their own original work than they do adapting someone else's. Finally, it's Witchblade, which means scantily clad heroines and villains, oodles of flesh, Richters of jiggle and more
boobies
than a South American coastal wildlife preserve. As Ikki Tousen has so painfully taught me, when there is sex involved in anime, you can forget any hope of a meaningful story, character development, or intelligence.
Witchblade: Volume 5
continues to prove that this series is the exception to all these rules, and you can waste time reading my review, or you can order it right now.
You can probably still get Yu Yu Hakusho if you shop around, although it looks as if the effects of deletion are finally catching up to it. Witchblade Volume 5 is out on the 6th of October, and while Starship Operators: Volume 2 was due out on the same date when I posted my review; it has since been pushed back to October 13th. All three are available on MVM's label. Watch out, more anime incoming!