What I Watched This Week (w/e September 28th 2008)
Just out of interest, if you've read this, could you rate it so I can get an idea of how many hits it receives? Cheers. :)
Blu-ray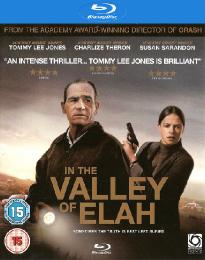 In The Valley of Elah
- When Hank Deerfield, a former army sergeant and military policeman, learns that his son is AWOL, he drives to the base to find him as he's surprised to learn that he came back from Iraq without telling him. Once there he tries to file a missing persons report but is passed from the military to the regular police and back again. Before he can do much looking for himself, a body is found and it turns out to be the remains of his son who has been repeatedly stabbed, cut up, burned and left for the animals.
The police are taken off the case when the body turns out to be in the army's jurisdiction but they're not too keen on digging too deep and try to bury the case. Deerfield is having none of it and persuades Detective Emily Sanders to help him, impressing her with his own investigative prowess. Tommy Lee Jones and Charlize Theron make a fine onscreen duo, Jones showing all of the stress in his lined face as he watches the footage his son recorded on his phone whilst serving.
This is one of a rash of post-Iraq and War on Terror films (others include Lions for Lambs, Redacted and Rendition) and Paul Haggis' addition is a very accomplished and involving film. :)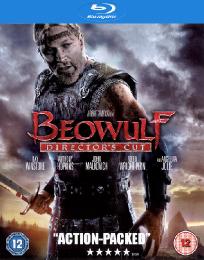 Beowulf
- This latest Mo-cap film by Robert Zemeckis is very, very loosely based on the ancient poem, with the screenplay written by Neil Gaiman and Roger Avary. The animation style is distinctly odd, with the characters looking like Madame Tussaud's has come to life - they look creepy and weird and only slightly photo real.
The first 'big' scene where Ray Winston's titular hero defeats Grendel whilst naked is unintentionally funny as the scene just reminds you of those in Austin Powers where various objects obscure his manhood! Some sequences look great but others are so badly rendered they look like a cut scenes from a videogame. It was a film clearly designed for 3D and the loss of a dimension detracts from the viewing experience as objects that point or move towards the screen would look great with the special glasses in the cinema but look out of place and distracting in the home.
It's good in parts but ultimately unsatisfying - I don't know what to make of Angelina Jolie's body which has all the definition of a Barbie doll. :|
My Best Friend's Wedding
- A guilty pleasure of mine that's hard to watch without smiling.


Starship Troopers 3: Marauder
- Having finally waded through the hours of supplementary material, I got the review up.
DVD
Street Kings
- Based on the story by crime fiction great James Ellroy, who also co-wrote the screenplay, this is a thriller about a police commander whose unit murders criminals and then manipulates the crime scenes to make the bust look legitimate. The ending came as no surprise to me - I'd figured it out quite early on - but it's a thoroughly entertaining film, well made and with a all too rare decent performance from Keanu Reeves. Compared to other films based on Ellroy's writing, it's better than Dark Blue, on a par with The Black Dahlia but vastly inferior to L.A. Confidential. I concur with Jitendar's
review.
:)
World Rally Championship 1985-89
- I watched a couple of discs last week and the rest this week, enjoying all the hours of rally action.


The Vanguard
- A post-apocalyptic zombie film, stylishly shot and a good watch.



The Entrance
-
Se7en
meets
Saw
with a twist of the occult in this devilishly well made Canadian horror flick.


Criminal Justice
- I didn't see this BBC drama on TV and it's a DVD well worth your attention - taut and thrilling.
Cinema

Tropic Thunder
- I don't know what it was but I didn't enjoy this. I was really looking forward to it as the trailers looked good but I didn't laugh and only remember smiling a couple of times. I thought Tom Cruise in a fat suit was more irritating than funny and Jack Black's character felt unnecessary. It felt like they had cherry-picked the best bits for the trailers with the majority of the film feeling like filler. The best bits were the fake trailers (Scorcher etc.) at the beginning, which were amusing, but it seemed to go downhill from there.
It's sad because I really wanted to like this but just felt let down with a 'meh' feeling at the end. It wasn't just me as I went with 3 others, only one of whom enjoyed it.
Books

30 Days of Night
- I watched the Blu-ray last week and said I wanted to read the book - I did and wasn't disappointed. The writing is solid and the illustrative style interesting though the changing of the relationship between Eban and his wife for the film works better than their solid marriage in the graphic novel. I'm quite interested in reading the sequels though now I'm back at Uni I don't know how much time I'll have. :)
Television
Shane Mosley vs. Ricardo Mayorga
- Although the older man by 2 years, Shane Mosley lives a lot better than the chain-smoking, hard drinking Nicaraguan and it should have been apparent in the ring but Mayorga came out swinging and won most of the opening few rounds. Mosley must have been shaking the rust off after his longest career lay-off and quickly found his groove, landing beautiful straight rights, jabs and left hooks. It seemed as if he would win on points but stopped Mayorga with one second in the fight remaining, knocking him out with a left hook. Time will tell who Mosley fights next - I'd like to see a third meeting with De La Hoya - whilst Mayorga will probably retire.
F1: Singapore Grand Prix
- The sports first night race was brilliantly staged by the wealthy country that had poured millions into the street circuit and the required lighting to race on it at 8pm local time. I'd feared that this, like Valencia, would be dull but, thanks to Nelson Piquet Jr. crashing his car and forcing the deployment of the safety car, the race was livened up. A couple of cars pitted whilst the pit lane was closed as they were going to run out of fuel, knowing that this would earn them a stop/go penalty and then Massa who was cruising for a win, drove off with the fuel hose still attached and into the path of Adrian Sutil - this delayed him in the pits and was further penalised by a drive through penalty. Ferrari really have to look at the semi-automatic release mechanism for pit stops and go back to using a lollipop.

NFL
- Cleveland's clash with Cincinnati was an absolute stinker but the game between long time rivals Washington and Dallas, the last at Texas Stadium, is much better, between two teams who are offensively dangerous and defensively underrated. I doubt I'll stay awake to watch Philadelphia's trip to Chicago as going to sleep at 4:30 in the morning isn't too inviting a prospect.