Anime Review Roundup
A quick gander at some anime news first, especially those snippets that stood out for me during the last week. Firstly, Anime on DVD is no more. The fansite that is the first of my Essential Anime links has ceased to be, at least in its enthusiastic 'by fans for fans' form. One person can run such a site for only so long and hold onto his sanity, and it was earlier this year that Chris Beveridge announced that he had sold the site to general media website Mania.com. This week, Anime on DVD was formally absorbed into Mania, although the process wasn't seamless, and the results have been mixed. Click on the link now, and you are taken to Mania's anime page, and the simple interface has vanished to be replaced with heavily ad-supported content, which is so aesthetically unpleasing and counterintuitive to navigate that it should come with a health warning. Fortunately, all of Anime on DVD's content is still there, and the forums are untouched. You'll just have to raise your tolerance for ugly.
Better news comes from Japan, with the announcement of a third season of Black Lagoon. Black Lagoon is the profane Revytastic action anime that is taking the world by storm. MVM are releasing the series in the UK, and the second season will make its debut in September. Read more at
Anime News Network
. Of course they have to make it first, then it has to be licenced by an American distributor, who has to dub it and then release it, and then a UK company needs to sub-licence it with the dub, and a PAL transfer courtesy of our Australian chums, and that's with the proviso that the creators don't do a Gunslinger Girl and the show remains at the high standard of the first two seasons, but still… Yahoo!
Closer to home is the London Barbican Osamu Tezuka Season running this September. It could be said that Osamu Tezuka is the man who started all this anime and manga stuff, certainly he has been an influence to countless animators and artists over the years. He's the creator of shows like
Astro Boy
reviewed for this site by Stuart McLean, and the manga
Metropolis
, whose movie adaptation I reviewed. The Barbican will be showing a selection of his television animations, short and feature films, curated by anime expert Helen McCarthy, from Thursday 18th to Wednesday 24th of September. You can read the press release at
Otaku News
, where you'll also find booking details and contact information.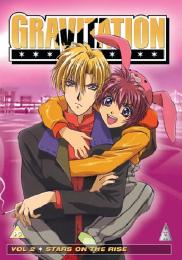 Last week's anime odyssey started late in the middle of the week with the second volume of
Gravitation
. It's the age old story of boy meets boy and falls in love, but the path to happiness is strewn with the pitfalls of a burgeoning pop career, and a moody romance author's dark past. Click the link for the lowdown on the comic melodrama antics.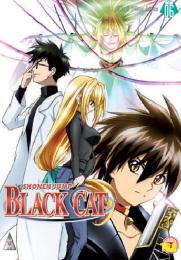 On Saturday, I bulldozed my way through the final volume of
Black Cat
. It's from Gonzo, it's a futuristic sci-fi action show, there's a hero with a dark past, and with plenty of conspiracies developing in the background. It's like everything you've ever seen before, and to be brutally honest, it hasn't been my most favourite of series. But, final volumes are traditionally where studios pull out the stops, and try to turn dross into gold. See if Black Cat manages it by clicking the link.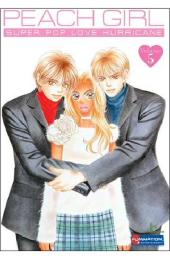 Then on Sunday, Stuart McLean gathered his thoughts on the soap opera melodramatics of
Peach Girl's
fifth volume. Love triangles, bitchiness and backstabbing abound in the teen angst filled series. Find out why you should get your teenage daughters hooked on anime by clicking you know what.
Peach Girl: Volume 5 is released today by Revelation Films. For MVM's Gravitation: Volume 2 and Black Cat: Volume 6, you'll have to wait until August the 11th. Till next time…