Frogger Ninja HD is now available in app store
Frogger Ninja HD is now available in app store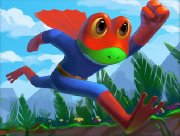 Certificate / Rating: Retail Price:
$1.99
Release Date:
Genre:
Perspective:
Resolution:

Related Websites:
http://www.prestogame.com

Platforms:
ipad, iphone

Publishers:
Prestogame

Description:
Fantastic Debut of Frogger Ninja HD!

Frogger Ninja HD has a high playability, and its 3D visual effects make the players completely ecstatic. Come quickly to this dangerous world of easy playing and incredible fun, turn into the brave and cute ninja, and save your friends!Remember, there are many things that can help you on the way! But be careful, this wonderful world is also plenty of hidden dangers!Features:
Beautiful and vivid 3D graphics.
Easy operations and high playability.
12 levels with more than 20 cute animal obstacles waiting for you
Amazing background music, composed by the members of the famous band "Flowers"
For more information, please visit the Frogger Ninja HD page on appstore.You can also find us on Facebook or Twitter @Prestogame
App Store Link:
http://itunes.apple.com/app/id480983833?mt=10