Review of Ghost in the Shell: Stand Alone Complex 2nd Gig Vol. 7
Introduction
I hate this time of year. The nights grow longer, the temperature dips, people insist on selling plastic tat that looks shiny and fresh on just one day of the year, and it`s that season where anime series come to an end. Of course, for the rare series it`s a blessing rather than a curse, but usually the final volume of a series is a bittersweet affair, a combination of excitement at a jaw-dropping conclusion, coupled with the sinking feeling that that is all there is. Those feelings are almost unbearable when it comes to a series of Ghost In The Shell`s calibre. A genre-defining movie spun-off an awesome television series, although last year`s climax of the first Gig barely had time to sink in before this 2nd Gig was announced. The beginning of the year also saw the movie sequel come to DVD so all in all 2006 was a Ghost In The Shell intensive year. There is no such respite this time around, as the end of this series is all there is. Unless you count the Solid State Society movie pencilled in for next year.
Ghost In The Shell inhabits one of those strange new worlds we often hear tell of. Set in the not too distant future, the divisions between man and machine are blurring. AI is a reality, and life like androids do the menial jobs that humans used to. It isn`t unusual for the average citizen to be enhanced in some way with implants or prosthetics. For some the enhancements are to such a degree that little of the original human remains. Major Motoko Kusanagi of Section 9 is one such person, who since the age of 6 has been equipped with a totally cybernetic body. The only biological component left is her brain. The differences between man and machine become ever more meaningless when machines can develop personality. It also opens up a whole new area of criminal activity, when cybernetically enhanced senses can be fooled by an enterprising hacker, or worse their brains themselves can be hacked into, subverting the innocent by reprogramming their `ghosts`. In the light of such terrifying possibilities, a special unit is created to head off the threat of such cyber-crime. Section 9 led by Aramaki is at the forefront of combating the new cyber criminals.
The various machinations of Gohda begin to fall into place, and the situation he has engineered, a nuclear standoff between the Japanese government and the refugees begins to tip towards anarchy. The Major and Section 9 have to go into this volatile situation in an attempt to resolve the crisis. Manga Entertainment releases Ghost In The Shell on 2 discs. One final time Disc 1 contains three episodes and the bulk of the extras, as well as DD 2.0 and DD 5.1 soundtracks. Disc 2 contains the same episodes, but with DTS soundtracks.
24. Nuclear Power
Prime Minister Kayabuki is removed from office and placed under arrest for treason, while the cabinet plan the invasion of Dejima. At the same time, Aramaki is taken into custody. Rumours abound that the refugees will use nuclear weapons in suicide attacks. As the confrontation flares over Dejima, the Major`s team heads into the mayhem. Gohda has pre-empted them however, and has sent Section 4 in after them with orders to kill. Meanwhile, a US nuclear armed sub surfaces in Japanese waters.
25. This Side Of Justice
Aramaki and Togusa plan to break the Prime Minister out of detention. As she has not been formally removed, her influence will still carry weight, and leave a diplomatic solution open. First though, they themselves have to escape. The SDA attack on Dejima escalates, and Section 9 is caught up in the middle, as the perfidy of Gohda`s plan becomes clear. In the aftermath of a missile attack, the Major finally apprehends refugee leader Kuze and learns his plan. Unfortunately they are both trapped under tons of rubble.
26. Endless Gig
The Prime Minister and Aramaki try to defuse the situation through diplomacy, Kuze and the Major come up with a last ditch plan to help the refugees, Batou disregards orders and rushes off to save the Major, and the Tachikomas come up with a scheme of their own. It may be all too late though, as time has run out.
Every episode is followed by a short Tachikomatic Days animation.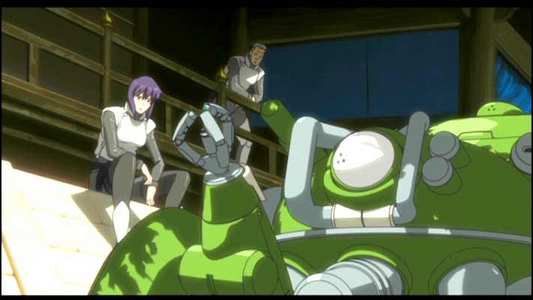 Video
Ghost In The Shell Stand Alone Complex gets an anamorphic 1.85:1 transfer that is sharp, clear and vivid. The image quality is of greater clarity than the best of Season 1 if anything, with even the colour banding usually associated with animation reduced to a minor degree here. Digital artefacts were absent, and if there was any grain, it seemed more of an artistic decision. Ghost In The Shell is a dynamic and brilliantly animated show. The character design remains of high quality, again improving on Season 1, and the action is striking and dynamic, with both the 2D and 3D imagery used effectively to tell the stories. There were a couple of niggles with this volume, notably some jerky pans. However this was really only noticeable on the end credit scroll of the final episode, and didn`t hinder my enjoyment.
The world of Ghost In The Shell grows as well in the second series. Season 1 was about the technology; it was all about the machines, and the new world. Everything was bright and shiny and wondrous. 2nd Gig goes about painting the background to this world, and introduces a much more tangible sense of age, of grime and of decrepitude. It also feels much larger in scope. We are taken into the darker niches of society, and the colour palette consequently becomes grimmer and more subdued. This series makes much greater use of light and shade in comparison to the first outing. It also still marries 2D animation to 3D CGI in a way that works brilliantly. In almost every way, the new series is step up from the first.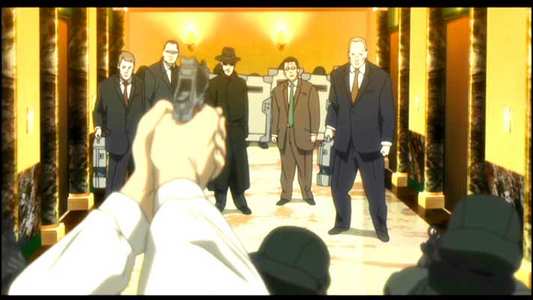 Audio
This release comes with a full selection of soundtracks, as per usual for a Manga Entertainment release. Disc 1 has soundtracks in DD 2.0 English and Japanese Stereo, as well as DD 5.1 English and Japanese, whereas Disc 2 allows you to watch the show with DTS 5.1 English and Japanese (encoded at 754kbps), as well as a repeat of the DD 2.0 English Stereo track.
The surround is excellent and there is ample action that makes full use of the soundstage, with plenty of futuristic machinery and vehicles. 2nd Gig also provides some all new Yoko Kanno tunes, including the theme tunes. As the climax of the show approaches, and the story becomes more serious, there is a shift from electronica to orchestral pieces that add to the drama. My preference will probably always be for the original language, but the English dub is better than most. That`s high praise when you consider that most recent anime dubs have been of good quality. Here the character voices are perfectly suited, and the actor performances capture the emotion of the scenes well. The translated English subtitles are legible throughout.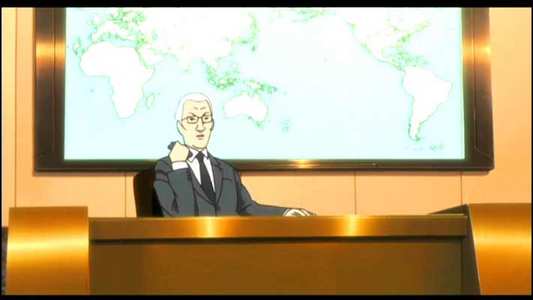 Features
The menus follow a simple holographic theme, and this time they follow a green scheme. It`s pretty nifty to look at, user-friendly and lacks the occasional colour-clash of season 1.
On Disc 1 you get episode synopses. This time there is only the one featurette. It is an interview with Director Kenji Kamiyama, Ken Nishida (Gohda) and Rikiya Koyama (Kuze). The director and voice actors discuss the characters and the way they develop, both on this disc and the series as a whole, as well as those episodes that impressed the most. This lasts 11 minutes.
Disc 2 once again has the trailers for, Manga Attacks, Karas, and GITS 2 Innocence, the Naruto DVD trailer and Dead Leaves.
Just as before, there is no Play All option, but this time each episode is preceded by an IDT Entertainment logo, which adds 10 seconds of inescapable CGI before we get to the good stuff. At the end of the final episode on the disc, you can see the English dub cast in an extra credit sequence.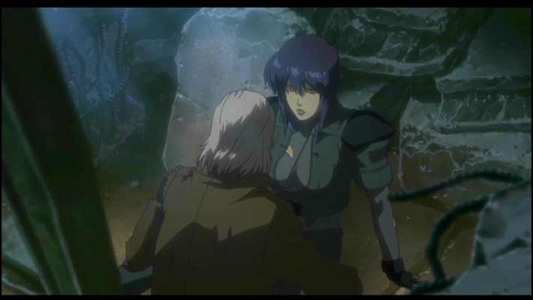 Conclusion
Words don`t fail me now! I am in danger of being struck hard of vocabulary following the climax of Ghost In The Shell Stand Alone Complex 2nd Gig. Looking back over my notes reveals an abundance of profanity (in the best way), leaving me a little awkward when it comes to relating the brilliance of this series, and just how much this final volume manages to trump even that. Add to that the imperative that I avoid spoilers at all costs, and this conclusion threatens to be brief and uninformative, albeit spotted with words like `awesome, cool, stunning, explosive, jaw dropping, Oh My God! and F*** Yeah!`
Suffice it to say that these three episodes deliver a more than worthy climax to the convoluted and intricate story that has been constructed over the last year or so. There`s suspense and tension in extremis, the threat of nuclear annihilation tends to do that, but the writing and pacing of these final episodes build on that threat perfectly. The action once again goes one step beyond what has been shown before; Section 9`s insertion into Dejima is one nail-biting case in point. The story is concluded in a more than satisfactory way, all character arcs are given full attention, there`s triumph, joy, excitement, sadness and melancholy. When you have a series as complex and as popular as this one, finding a suitable ending that will appeal to all becomes terribly hard, but the ending we get here is hard to top. And there are just enough loose ends and unanswered questions to allow for a follow up, without anyone feeling cheated.
The Second Gig of Ghost In The Shell has managed something really quite special. After the brilliance that was the first series, it would have been very easy to deliver something that was more of the same, after all, why mess with a winning formula? But the 2nd Gig has delivered a story that built on the original premise and characters, yet offered something new, something wider in scope and something with far greater relevance to contemporary audiences. At times it has lacked the immediate and personal involvement of the first series, but it has made up for that with a sense of the grand and epic, it`s taken the characters and placed them in a situation where they are utterly out of their depth. Section 9 are essentially a police force, and for them to be acting on a geopolitical landscape opens up a whole new can of worms. It also makes the question of whether they succeed, or even survive far more open than in the first series, which itself was ambiguous enough in that respect. There is no safety net for the characters, and that makes this show even more compelling. Where most shows would be satisfied in sticking to a successful formula year in year out, to find a show this good, that breaks the mould is rare indeed.
Of course the intertwining and interdependency of the episodes could be construed as a drawback. Where an event in episode 25 should have you looking back at episode 9 with a light bulb on over your head as you go "Ah, I get it!" instead has you blank faced because you last saw episode 9 over half a year ago, causes difficulties to say the least. Now that this final disc is out, it is the perfect opportunity to sit down and watch it all over again in one go, which is what I will be doing for the next few days thank you very much. For those of you with greater patience than I, the release of this final volume coincides with the release of the uber boxset, collecting all 14 discs in one shiny tin. However unlike last year, there won`t be a seven-disc cut-down collection until next spring. Whichever way you choose to obtain it, legally I hasten to add, Ghost In The Shell Stand Alone Complex 2nd Gig is the best anime release of 2006, and no fan should be without its benefits. A superlative volume caps a series which I cannot praise enough. F*** Yeah!