John Ford Cavalry Trilogy Box Set, The (UK)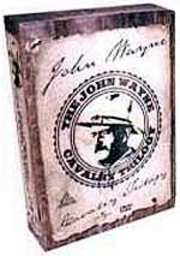 Includes 3 of Ford`s most popular westerns
Certificate: PG
Running Time: 300 mins
Retail Price: £39.99
Release Date:
Content Type: Movie
Synopsis:
Fort Apache
The first of John Ford`s trilogy of Cavalry Movies set during America`s struggle against the Apache Indian.
Henry Fonda plays the stubborn Colonel Thursday whose Textbook methods of warfare appear as pure as suicide to everyone but him. John Wayne stars as Captain York, a soldier experienced in Apache warfare, from whom Thursday will take no advice.

The film builds to the inevitable confrontation with the Apache masses, and Thursday leads his men into the Lion`s Den.

She Wore A Yellow Ribbon
General Custer has just been slaughtered, 10,000 Indians from different tribes are on the warpath and Captain Nathan Brittles (John Wayne) has six days left before he retires from his undermanned US Cavalry outpost.

Brittles` last patrol is to escort the commander`s wife and her niece to the stagecoach stop at Sudrow`s Wells.

`She Wore A Yellow Ribbon`, the second in John Ford`s cavalry trilogy, is a masterpiece of the cinema and is acclaimed as one of the greatest Westerns ever made.

Rio Grande
John Wayne and Maureen O`Hara are embroiled in an epic battle with the Apaches and each other in this John Ford classic.

When the American civil war ended, attention turned towards the Apaches in the south-west. Officer Kirby York (Wayne) runs an outpost on the Rio Grande, in charge of training new recruits. One of the young trainess turns out to be his son, whom he had not seen for 15 years.

Yorke`s ex-wife and mother of his son arrives to take the young trooper away from the danger of a battle. Yorke junior decides to stay and fight with his father. It`s not long before Kirby abd his ex-wide (O`Hara) begin to fall back in love and decide to try again kicking off a whole series of love triangles set against the backdrop of taming the wild west.

The circumstances, however, take a turn for the worse, when an unorthodox plan devised by Officer Kirby, in order to outwit the Apaches, backfires and he finds himself up for court martial.

The scene is set superbly when he then has to clear his name and protect the lives of his recently reunited family.
Special Features:
Trailers
Stills Galleries
Making Of`s

Video Tracks:
Standard 1.33:1

Audio Tracks:
Dolby Digital Mono English

Subtitle Tracks:
CC: English

Directed By:
John Ford

Starring:
Pedro Armendáriz
Shirley Temple
Henry Fonda
John Wayne

Distributor:
Universal Pictures