Laputa: Castle In The Sky - Double Play: The Studio Ghibli Collection
There are very few, if any, directors who have become synonymous with their studio in the same way as Hayao Miyazaki has become synonymous with Studio Ghibli. One could easily make the same argument for John Lasseter and Pixar Animations, but Lasseter has brought along other directors such as Pete Docter who have made Oscar-winning films themselves. On that point, Lasseter treats Miyazaki as a master filmmaker (with good cause) and the two have become good friends to the point where Lasseter oversees the Western releases of Miyazaki's films, even having input into the English-language voice casting. There are so many great Miyazaki films that it's hard to single out which one is his masterpiece, from Spirited Away to Ponyo and Princess Mononoke.

One of his earlier films was Laputa: Castle in the Sky, which, in 1986, became the first film created and released by Studio Ghibli. On board a huge airship, a young girl is either being protected or kept prisoner - nothing is made overly clear - by a group of men under the command of Colonel Muska. When the ship comes under attack by a group of pirates led by an old woman called Dola and a firefight between the pirates - her sons - and Colonel Muska's men, the girl picks up a wine bottle and smashes it over Muska's head, knocking him out and taking a pendant from him. For reasons that are still unclear, she climbs out the window and begins to inch along a ledge but this attracts the pirates' attentions as they spot the pendant and, with the airship swaying and small planes buzzing around her, she falls.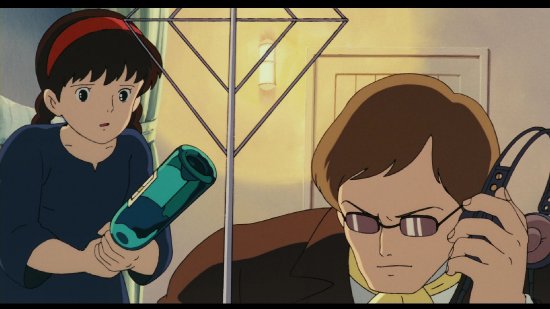 Instead of plummeting to her death, her fall gradually slows and gently stops just before a young miner, Pazu, who has seen her falling and has run from his house to where he thinks she will land, can catch her. Just as she stops and floats in mid air just above his outstretched arms, she suddenly drops into his grasp and he put her down safely. When she wakes up, she has absolutely no idea of what has just happened and Pazu tries to explain that the necklace, which glowed bright blue to slow her fall, is somehow magical. He tries to demonstrate what happened by borrowing the necklace and jumping off the roof of his house but nothing happens and he just crashes to the ground. Whilst in his house, the girl, who divulges her name is Sheeta, finds a photograph of a huge island which is floating through the sky. Pazu describes how his late father took that photo, which is of the mythical city Laputa, was considered to be a hoax by his contemporaries yet Pazu believes Laputa is real and wants to find to prove his father was right.
However, before they can discuss things at length, Pazu and Sheeta have to flee because they have been tracked by Dola and her gang of pirates who are now at Pazu's front door so, with Sheeta disguised as a boy, they flee through the town. The townsfolk clearly don't want to have anything to do with the pirates and there is a show of strength between the most muscular pirate and the most muscular man in town which turns into a fight, leaving the pirate unconscious. During the fight, the children jump onto the train and Pazu takes over shovelling coal in order to make the engine move the train as quickly as possible. However, the pirates are also on the tracks and, when they catch the train and the children are forced to jump onto a wooden ledge which collapses and, when many of the ground, the pendant glows a bright blue just as before, saying their lives and telling Dola it is the stone she is after.
Pazu and Sheeta landed in a mine where they meet Uncle Pom, a man who has been mining for decades and shows the children that, when he turns off his light, the stones come to life and begin blowing a brilliant blue, the same colour as Sheeta's pendant. When she shows this to the old man, he asks her to put it away as it is extremely powerful and the purest example of the crystals he has ever seen - the same material that keeps Laputa aloft. Returning to the surface, Sheeta confides in Pazu her real name isn't Sheeta, but Lusheeta Toel Ul Laputa, which is Laputian for 'Sheeta: true ruler of Laputa' or 'Sheeta: Queen of Laputa'. However, before Pazu has a chance to take in this bombshell, a plane lands nearby and the two are captured by soldiers and separated.
Prior to watching this for review, it had been so long since I saw
Laputa: Castle in the Sky
that I couldn't remember what happened following their capture and what the army, Colonel Muska (who knows Sheeta's real name) and the pirates all want with Laputa or even how the film ended so this is very much like watching it for the first time.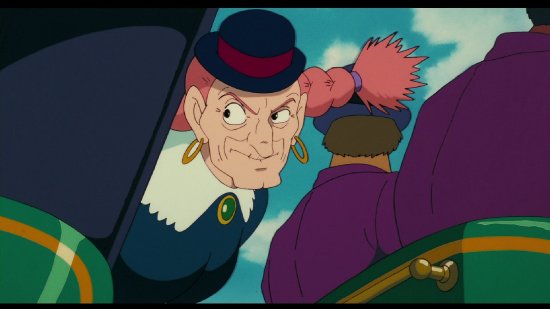 Having now watched it twice - once with the Japanese soundtrack and once with the new English dub - I was amazed both times at Miyazaki's writing and direction, the beauty of the hand drawn cell animation and the overall spectacle of the film. It was interesting to compare the difference between how the film plays with the two different language tracks. The English dub certainly sounds a little more frenetic with more voices and background chatter in some scenes which makes everything sound a little busier whereas the Japanese soundtrack sticks to the main characters speaking so the emphasis is on what they are saying rather than the scene as a whole. Oddly, the two main characters in the English dub sound a great deal older with Anna Paquin and James Van Der Beek making them sound like they're in their mid-teens, probably five years older than the voices provided by Keiko Yokozawa and Mayumi Tanaka in the same roles, respectively. The new English dub does have very well chosen actors for some of the other roles, such as Cloris Leachman as Dola and Mark Hamill to play Colonel Muska, with both of them doing the job extremely well.
However, I found the Japanese actors deliver their lines with a great deal more force in the more intense scenes, just as younger children would when their emotions are much rawer than those in their teens. One particular scene, when Sheeta and Pazu face off against Muska near the end demonstrates this perfectly with Pazu yelling at the Colonel in a way that is much more convincingly played by Mayumi Tanaka found James Van Der Beek. Overall, it doesn't really matter which language track you choose as they both have their merits but just don't try to watch it with the English dub and subtitles as you'll find they don't marry up at all as the subtitles are there for the Japanese soundtrack which is very different in parts to its English counterpart.
As with every other film I've seen by Hayao Miyazaki, this is an utterly enchanting and magical film which sweeps you up from the very first sequence and keeps you there until the final credits roll.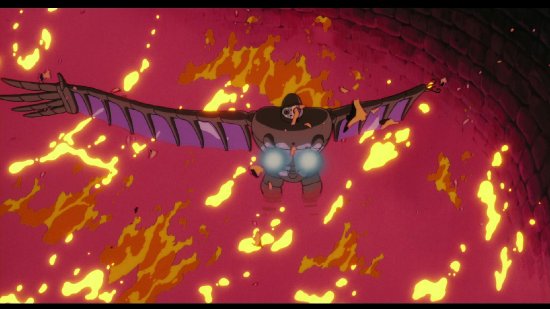 The Disc
Extra Features
Sadly, not a great deal of new material for this release, only the general bonus features you tend to find on a Studio Ghibli release.
Storyboards
(2.04:31, HD) allows you to watch the entire film in storyboards or, using the angle button on the remote control, watch the finished film with storyboards in the bottom right-hand corner or turn them off. It's amazing how faithfully the film sticks to these storyboards but, as they were probably drawn by Miyazaki himself, they undoubtedly formed the backbone of the creative process and this is well worth a look, even if you just browse through it.
Promotional Video
(12:38, HD) is presented in 1.33:1 so scenes from films rich intersperse the interview with an extremely young looking Hayao Miyazaki, with dark hair and no beard(!), are letterboxed. It is quite an interesting discussion with Miyazaki, project development manager Hideo Ogata, producer Isamu Takahata and various artists. As the title suggests, this is an EPK piece designed to provoke interest in the film rather than delve deeply into its making so more time is taken with clips from the film than interview footage. Even though this is presented in HD, albeit with a fairly low bitrate, it does show the huge difference between DVD quality and Full HD.
Behind the Microphone
(4:09, HD) features interviews with members of the English cast from Mark Hammill to James Van Der Beek, Cloris Leachman and Mandy YYY along with some split screen footage of them delivering their lines and the film on either side of the screen.
Behind the Studio
is split into four sections:
The World of Laputa (2:18, HD)
Creating Castle in the Sky (3:40, HD)
Character Sketches (2:39, HD)
Producer's Perspective: Meeting Miyazaki (3:14, HD)
These all feature interview footage with Miyazaki talking about various aspects of the film, from where certain ideas came from, to the main characters and what it's like to be outside the mainstream. The last one, understandably, has no interview footage with Miyazaki, but is an interview with Toshio Suzuki who talks about how he first met Miyazaki whilst working as a journalist and how he came to be a fixture in Studio Ghibli.
Textless Opening and Ending Credits
(4:45, HD) is, as the title suggests the credits without the pesky Japanese script getting in the way so you can really appreciate the excellent animation in its full glory.
Finally, there are the
original Japanese trailers
and a selection of trailers for other films in the
Studio Ghibli Collection
:
Nausicaa: Valley of the Wind
,
Ponyo
,
Howl's Moving Castle
,
Tales from Earthsea
,
My Neighbours the Yamadas
and
Spirited Away
.
Also, with this being a Double Play release, it contains both a Blu-ray and DVD so it's perfect for households where the living room has a HD setup and DVD players in the bedrooms so you can watch it as a family downstairs or let your kids watch the DVD upstairs. If you are considering buying a Blu-ray player in the near future, the price difference between this and the DVD release is so small it's worth buying this in order to future proof your collection.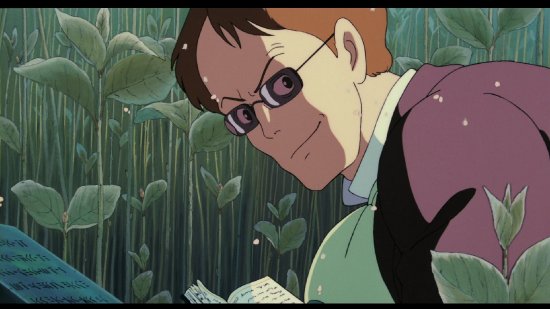 The Picture
Although it's been a while since I saw the film, it certainly never looked this good on DVD and, for a film now 25 years old, it's astounding how much detail can be found and how vivid the colours become when you revisit the original source material. I really shouldn't be surprised as I have recently watched some of the new Disney BDs such as
Bambi
,
Sleeping Beauty
and
Pinocchio
which look magnificent in HD and are just about the same quality as those made only a few years ago.
The animation in
Laputa: Castle in the Sky
may not be as adventurous as that in
Ponyo
, but it is still an extremely ambitious film with some amazing set pieces, especially those involving Laputa and the flying sequences with the small pirate aircraft and the huge airships. The characters are all extremely well drawn and realised and I found it slightly amusing how the character design for Dola was almost recycled for the granny in
Spirited Away
, perhaps intentionally.
In this day and age when just about every animated film has been done via computers and is almost photorealistic (occasionally designed to be shown in 3-D), it's refreshing to see 'old school' animation which shows it doesn't really matter how impressive the animation is when the story and screenplay aren't up to scratch. In this case, it is a beautifully written film and the animation matches the quality all the way.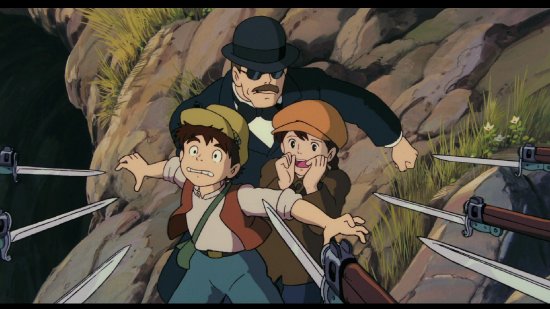 The Sound
As mentioned above, you have the choice of the original Japanese soundtrack or a new English dub (recorded in 2010). Oddly, the English dub is given preferential treatment with an uncompressed LPCM 5.1 track whereas the Japanese only has an uncompressed LPCM 2.0 stereo track. As this is a disc designed for an English speaking audience, I imagine they thought the English track would be the option of choice, so the 5.1 track does an amazing job in allowing the dialogue to come through clearly whilst employing the front and rear surrounds for the action and more emotionally heavy sequences.
Fortunately, the stereo track is extremely good and, whilst it doesn't have the dynamic range of the 5.1 track, it presents the dialogue incredibly well and the front surrounds are really impressive when it comes to the action sequences and atmospherics. If your amp has Pro Logic II, you can have the rear surrounds produce a simulated surround option which, whilst not the equal of the 5.1 track, is extremely impressive.
There are very few moments when the surrounds are completely quiet as there is always something going on with the atmospherics and various other sounds, be they people chatting, wind blowing or engine noises.
Joe Hisaishi, a Studio Ghibli stalwart, who has composed just about every film they've made including
Kiki's Delivery Service
,
My Neighbor Totoro
,
Nausicaa Valley of the Wind
,
Spirited Away
and, most recently,
Ponyo
shows why he has been at the studio so long and why Miyazaki uses him to score his films with a brilliant composition that really helps to underscore the emotion, tempo and sense of suspense. The music doesn't run throughout the entire running time and there are some scenes which are pretty much left to the excellent sound design and sound effects to go with the dialogue and the film works both with and without the music.
If you watch this with the Japanese soundtrack and the (optional) English subtitles, they are extremely well written, free from spelling and grammatical errors and stand out very well from the film itself so never 'lost'.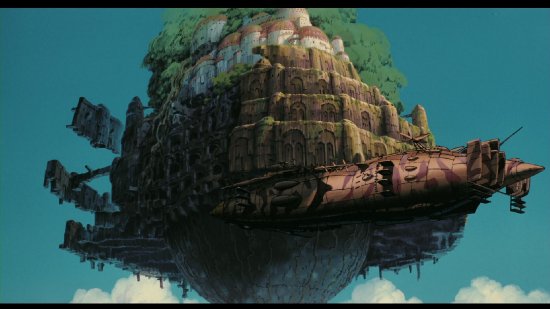 Final Thoughts
I've no idea how one would go about comprising a top 10 of Hayao Miyazaki's best films and put them in order from 10-1 as they are all such magical, beautifully realised and enchanting films that they all just about deserved top marks. This is a testament to Miyazaki's quality as a filmmaker that he is yet to make a duff film and everything he makes is met with the highest expectations.
In the case of
Laputa: Castle in the Sky
, it has such an ingenious concept and such well rounded characters that it's impossible to pick fault and describe it as anything other than a brilliant piece of filmmaking, whether animated or otherwise. If you have this on DVD, now is the time to put that to one side and upgrade to Blu-ray as the picture and sound quality are sublime. The extra features aren't bad either so this is a disc for those who already own the film and those who don't but are curious as to what a Miyazaki film would look and sound like in high definition.